Closed
Verified
UniWorld (UNW) Airdrop
It looks like you are too late! This airdrop is closed
Looking for new airdrops?
Visit our Featured & New Airdrops pages.
UniWorld Airdrop is worth up to 50 UNW (~$ 17.25). Share your referral link to earn 5 UNW (~$ 1.73) per referred friend.

About UniWorld

UniWorld is a blockchain ecosystem that includes products such as UniBot, UniMe, UniChain, Mia and other utility applications:
UniChain combines and modifies the newest technologies on the Blockchain and AI market to reach millions of transactions per second without compromising decentralization and security. UNW is the main token circulated on (and with) UniChain.
UniBot: An AI and chatbot platform utilizing UniChain for verification and store transactions. Users can create and customize their own chatbots for free on Unibot.org with New User Interface.
UniMe: Mobile App which can be used as a secure end-to-end chat app (also supports audio/video calls). It also acts as a Blockchain hub where users can manage their Blockchain wallets (currently UNW, ETH and BNB - more are planned).
Mia social network: Similar to other social platforms but focused on AI, Blockchain and the Smart Society 5.0. It uses UniChain to permanently store transactions and also rewards users (in UNW) for good content.
UniWorld appears in several prestigious press releases such as Bloomberg, Yahoo Finance, Business Asia, and many more.
How to join the UniWorld Airdrop?
Tokens Per Airdrop up to 50 UNW
Referral program 5 UNW
KYC KYC is mandatory
Requirements to earn free crypto coins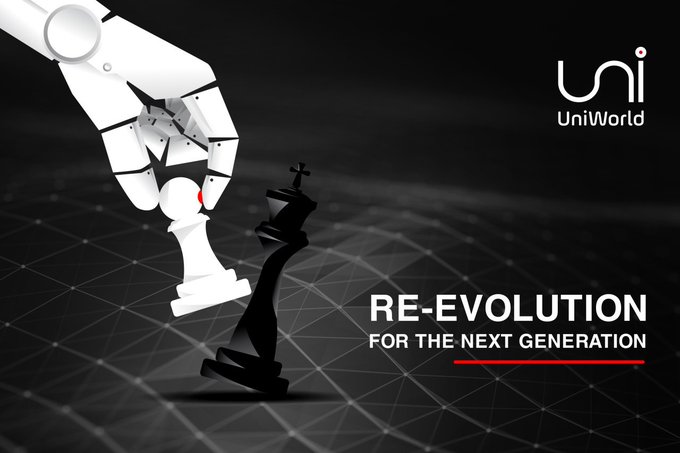 Native blockchain
Step-by-Step Guide UniWorld Airdrop
Start the UniWorld Airdrop Telegram Bot.
Register via email, not via phone, on the UniWorld site, verify your mail, & 'Generate a New Wallet. (mandatory, +10 UNW)
Complete KYC on the site. (mandatory, + 15 UNW)
Follow UniWorld on Twitter & like and retweet the pinned tweet with your comment. (optional, +10 UNW)
Subscribe to UniWorld YouTube channel & enable notifications 🔔. (optional, +10 UNW)
Submit your UNW address and other details to the Telegram bot.
Share your referral link to earn 5 UNW (~$ 1.73) per each referred friend.
Would you like to earn Ethereum with Airdrop Alert? Have a look at our ETH referral Airdrop!

If you like the UniWorld Airdrop, don't forget to upvote and comment below.
Estimated value
~$ 17.25 + referral
Additional ICO information
Total Supply 1.000.000.000 UNW
Consensus algorithm DPOS and Hotstuff
Headquarters Singapore
UniWorld Video