2,000,000 BPX trade reward waiting for you
Published On : 2020-01-01 16:05:06
DigiFinex is airdropping 2,000,000 BPX in total. This giveaway will run from December 30, 2019, 11:00 till January 13, 2019, 11:00 (GMT+8). Rewards will be given out within 5 business days after the giveaway ends.
1. BPX net purchase reward
During the event, users'BPX net pruchase amount ≥50,000 and on the top 50 will receive the following rewards.(Net purchase amount =purchased - sold - withdrawn)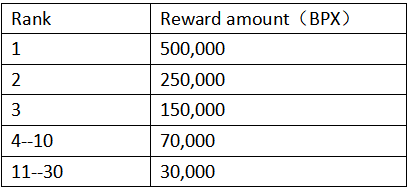 2. BPX luck reward
During the event,according to the BPX trade amount ranking, the 28th user will receive 10,000 BPX reward
3.Between 24th Jan - 30th Jan 2020, BPX will collaborate with DigiFinex's annual red packet event. Users who have completed real-name verification may collect BPX red packets.
For more information, read the official announcement.