ETC-8 candy airdrop on DigiFinex
Published On : 2019-06-14 09:31:15
DigiFinex is going to list ETC8 and open up deposit service on 14th Jun 2019 10:00 (GMT+8). Withdrawal and trade service will be open on 15th Jun, 2019 10:00 (GMT+8). To celebrate, they will be airdropping 8,880,000 ETC8 tokens.
About Ether Legend (ETC8)
Ether Legend (ETC8) is a decentralized, distributed game ecosystem. It is designed to provide game publishers and developers with game asset distribution, game virtual asset trading, blockchain game incubation/grafting and other ecological services and through some portals. Level projects, integrate the resources of distribution, conversion, media, advertising, etc. in the industry, transforming the user's time and energy into effective output and establishing a complete and win-win economic system with external funding sources.
Activity time: June 14, 2019, 10:00 - 2019, June 24, 10:00(GMT+8)
Rules
1: Net purchase reward
During the event, users with a net purchase of ≥10,000 and the top 166 will receive the following rewards. (Net purchase amount =purchased - sold - withdrawn)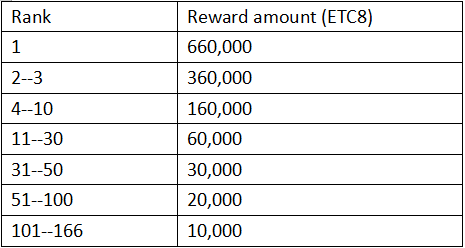 2: ETC8 "deposit coins and earn interest
There are 2,920,000 ETC8 in this candy box, first come first served. Calculation for this candy reward: Lock-up ETC8 Amount x No. of lock-up days x 0.3% Minimum lock-up amount: 1,000 ETC8. Lock-up period: between 5 to 30 days. Each person can receive up to 10,000 ETC8.
For example, if you lock-up 10,000 ETC8 in the candy box for 10 days, you will receive 300 ETC8.
3: Friend invitation reward
Enjoy 10% two-tiered commission + 0.02ETH + 300 CNY coupon incentive when you invite your friends. 10% two-tiered commission + 0.02ETH + 300 CNY coupon incentive : Download and login to APP --mine --friends' invitation to view details of your reward. 300 CNY coupon reward collection: Download and login APP -- mine -- get coupon -- enter coupon code.
Rewards will be given out within 5 business days after the event ends.