JinyCoin Candy Airdrop on DigiFinex
Published On : 2019-07-18 09:18:10
Jinycoin is a versatile and full-fledged platform offering multiple customer friendly services that is not only ground-breaking in many aspects but also allows users to take benefits of affordable services through a single platform. From E-Commerce sale and purchase to granting access of a globally operational MasterCard, the jinycoin platform and coin both give their users complete Independence of using the services seamlessly that too against a very negligible charge.
The Jinycoin platform is powered by the X16R algorithm that makes the jinycoin ecosystem not only faster but also more secure as the multi layered security feature only we improve the User experience with the features integrated within the platform.
DigiFinex is going to list JinyCoin(JINY) and open up deposit service on 22nd Jul 2019 10:00 (GMT+8). Withdrawal and trade service will be open on 22nd Jul, 2019 15:00 (GMT+8).To celebrate, they will be air-dropping 2,000,000 JINY candies!
Official announcement by DigiFinex:
Activity time: July 22, 2019, 10:00 - 2019, August 02, 10:00(GMT+8). Rewards will be given out within 5 business days after event end.
1. JINY "deposit coins and earn interest"
There are 500,000 JINY in this candy box, first come first served.
Calculation for this candy reward: Lock-up DFT Amount x No. of lock-up days x 0.5%.
Minimum lock-up amount: 100 DFT.
Lock-up period: between 5 to 20 days.
Each person can receive up to 500 JINY.
For example, if you lock-up 1000 DFT in the candy box for 10 days, you will receive 50 JINY.
2. JINY net purchase reward
During the event, users' JINY net purchase amount ≥1,000 and the top 200 will receive the following rewards.(Net purchase amount =purchased - sold - withdrawn)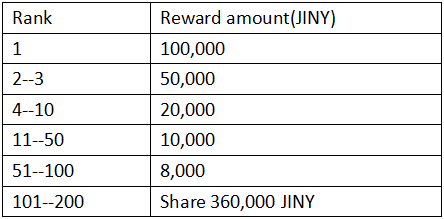 3.Friend invitation reward
Enjoy 10% two-tiered commission + 0.02ETH + 300 CNY coupon incentive when you invite your friends.
10% two-tiered commission + 0.02ETH + 300 CNY coupon incentive : Download and login to APP --mine --friends' invitation to view details of your reward.
300 CNY coupon reward collection: Download and login APP -- mine -- get coupon -- enter coupon code.