XENSOR launch on DigiFinex 520,000 XSR GiveAway
Published On : 2019-08-15 09:50:36
DigiFinex Exchange is going to list Xensor (XSR). To celebrate that, they are giving away 520,000 XSR tokens.
The campaign period is from 15th August 2019, 10:00 - 25th August 2019, 10:00 (GMT+8).
1. XSR net purchase reward
During the event, users' XSR net purchase amount ≥1,000 and the top 100 will receive the following rewards. (Net purchase amount =purchased - sold - withdrawn)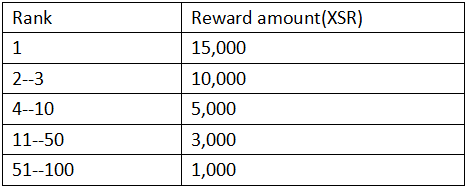 2. DFT on welfare, deposit coins and earn interest (worth 100,000 XSR, first come first served)
Calculation for this candy reward:is Lock-up DFT Amount x No. of lock-up days x 4%. Minimum lock-up amount is 1,00 DFT. The lock-up period is between 7 to 30 days. Each person can receive up to 1,000 XSR.
For example: if you lock-up 1,000 DFT in the candy box for 10 days, you will receive 400 XSR.
3. XSR Trade Reward (worth 180,000 XSR, first come first served)
Users who trade 500 USDT worth of XSR will get 200 XSR.
For more information, read the article about this GiveAway.