Verified
Upfront Protocol ($UP) Airdrop
Upfront Protocol Airdrop brings you an exciting opportunity! With a massive prize pool of 5,000,000 $UP tokens for Zealy hunters, there's plenty to win.
But wait, there's more! Upfront Protocol & @BSC_Daily offer an exclusive giveaway worth 2,000,000 $UP tokens to 200 lucky participants.

About Upfront Protocol

Upfront Protocol is an innovative platform with a focus on two key products, Upfront Staking and UpDEX:
● Upfront Staking allows users to overcome challenges commonly associated with traditional staking, such as lockup periods, rewards duration, and liquidity risks. By prioritizing high-liquidity tokens and offering flexible fund access, Upfront Protocol ensures a seamless staking experience.

To further expand its reach and impact, Upfront Protocol has successfully launched on the Binance Smart Chain and has plans to scale to other networks, including Arbitrum and zkSync.
How to join the Upfront Protocol Airdrop?
Requirements to earn free crypto coins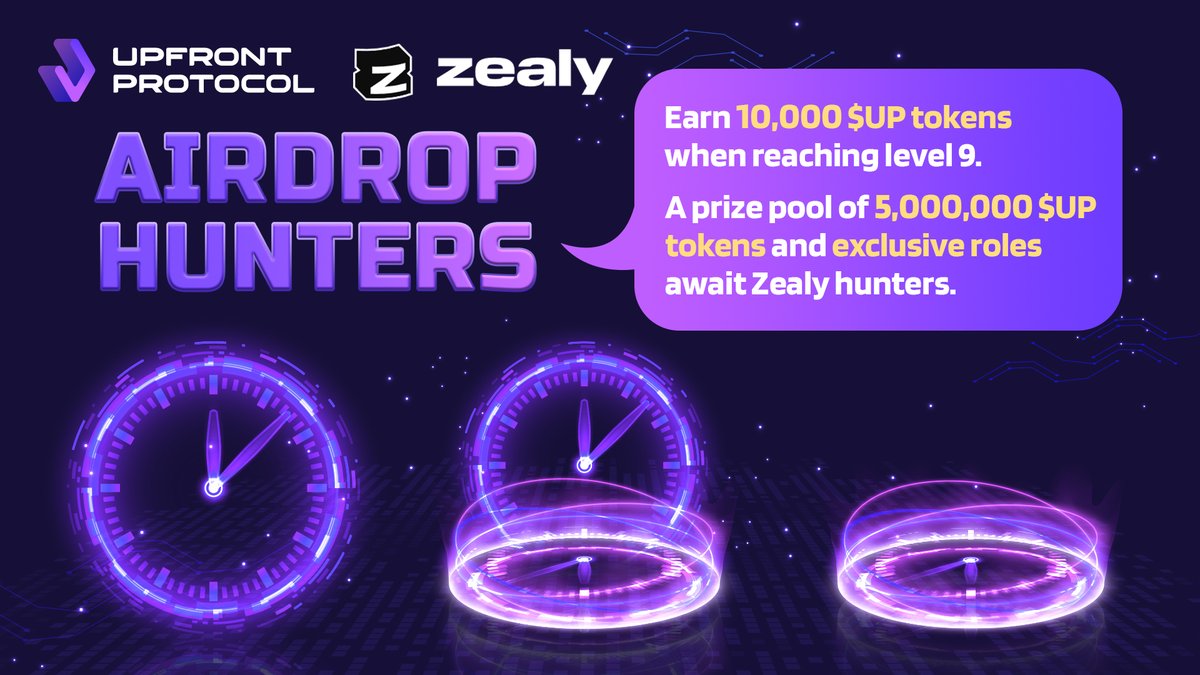 Native blockchain
Step-by-Step Guide ''Upfront Protocol Airdrop''

▪️ Additional Opportunity: Join the Exclusive Upfront Protocol x BSC Daily Giveaway campaign on Galxe featuring a massive prize pool worth 2,000,000 $UP tokens for 200 lucky participants. The will notify you of the raffle results by email. Good Luck!

When using decentralized applications (ÐApps), it's critical to remember that YOU are responsible for the security of your digital assets!
Disclaimer: This content is not intended to be financial advice. Investors should take the time to research any given product before depositing or investing their funds.
Estimated value
N/A
Additional ICO information
Total Supply 1,000,000,000 $UP
Blockchain BNB Smart Chain
Markets PinkSale.Finance
Upfront Protocol - Teaser