Verified
Valkyrio Classic ($VALK) Airdrop
Valkyrio Classic Airdrop prize pool is worth 1,000,000 $VALK tokens (~$ 3,000) for the Top 5,000 qualified players.

About Valkyrio Classic

Valkyrio Classic is a blockchain-based Game inspired by a manga called "Shuumatsu no Valkyrie". Players will immerse themselves in the role of a humanity representative by recruiting fighters, forging weapons, killing monsters, and challenging Gods. From then, each participant will contribute to writing their own storyline. Enjoy and Earn a passive income!
$VALK serves as the 1st native currency for Valkyrio. Players need it to acquire fighters, forge weapons, buy/sell on the marketplace, participate in-game events and pay fees. There is a maximum supply of 100,000,000 tokens.
$YRIO serves as the 2nd native currency for Valkyrio. Players need it to upgrade their fighters' powers, therefore increasing the reward for combat.
How to join the Valkyrio Classic Airdrop?
Prize Pool 1,000,000 $VALK
End Date 27 September, 2022 @ 11:59 pm
Requirements to earn free crypto coins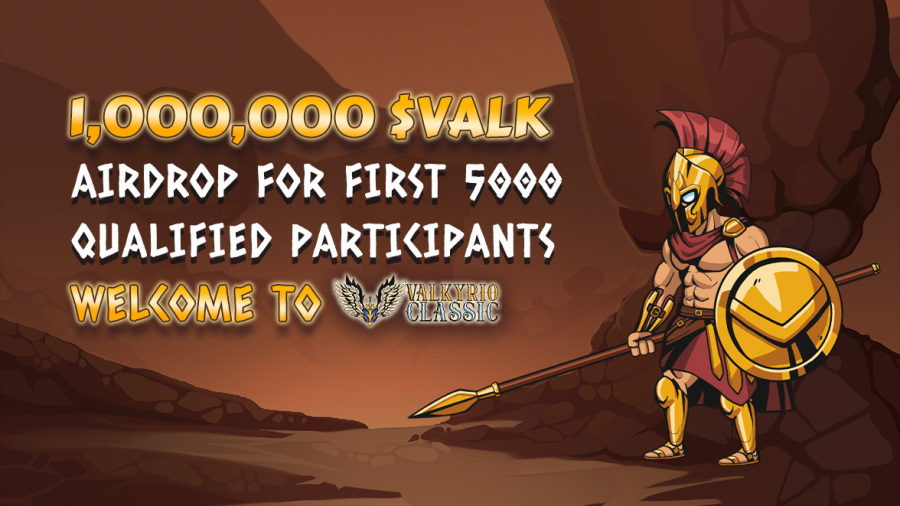 Native blockchain
Estimated value
~$ 3,000 Prize Pool
Additional ICO information
Total Supply 100,000,000 $VALK
Blockchain Network Binance Smart Chain
Markets PancakeSwap
Valkyrio GamePlay - Video Tutorial