Closed
Verified
Verasity Triviata (VRAB) Airdrop
It looks like you are too late! This airdrop is closed
Looking for new airdrops?
Visit our Featured & New Airdrops pages.
Verasity Triviata Leaderboard Competition is worth $10k in Verasity VRAB playing Triviata. Earn crystals in the Triviata App to get to the top of the competition leaderboard! Triviata is a Quiz game with thousands of questions on various topics. You choose the quiz length and difficulty. Beat others in global and local competitions!
Leaderboard Prizes: 1st Place: $5k in VRAB, 2nd Place: $2.5k in VRAB, 3rd Place: $1k in VRAB, 4th-10th Place: $140 in VRAB, 11-100 Place: 15000 VRAB.

About Verasity
Verasity is a leading video platform providing unique Rewarded Player Technology to major publishers across the globe. Verasity's video player solution offers the perfect vehicle for viewers, publishers and content creators to benefit from the utility of blockchain technology. Verasity's platform is fully functional and operating already. Viewers can join the Verasity network and start Earning Rewards. There is nothing for the viewer to download, and viewers can instantly start earning by watching videos and claiming tokens. Viewers sign up and create a VeraWallet from within the player can transact. The attention-based model creates a thriving VRA token economy between viewers, publishers and advertisers.

Verasity technology is now integrated into the following video players on publishers' sites: YouTube, Twitch, Vimeo, JWPlayer, Brightcove, Kaltura, VideoJS, Flowplayer, and Ooyala which represents over 95% of all the video players utilized online (outside of China). Verasity (VRA) is listed on CoinTracker.
How to join the Verasity Triviata Airdrop?
Tokens Per Airdrop Leaderboard Competition
Total Competition allocation $10k in VRAB tokens
Airdrop End Date 12AM UTC October 28th
Requirements to earn free crypto coins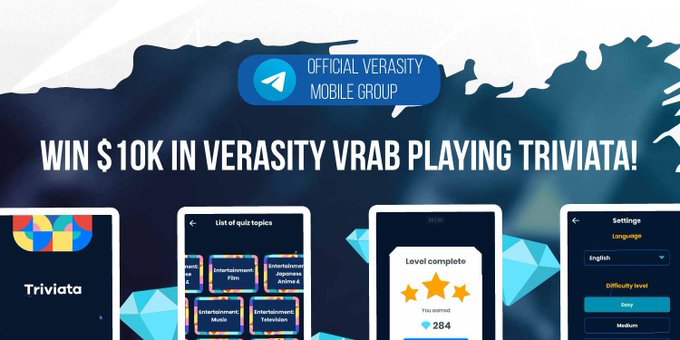 Native blockchain
Step-by-Step Guide Verasity Airdrop
Open a VeraWallet account.
Install Triviata from the Google Play Store or from the iOS App Store.
Sign up for your Triviata account with your VeraWallet email.
Click 'Competitions' button, then 'Verasity competition', see the popup and join now.
To earn the most crystals, click on the 'Earn More' button and choose offers from the Offer Wall.
To switch Offer Walls for more choice of Offers, close the Offer Wall and click on 'Earn More' button again.
Earn crystals in the Triviata App to get to the top of the competition leaderboard!

Note: To see the competition Leaderboard, click on the Competitions button and select 'Verasity Competition'. At the end of the contest, you will be contacted by email and your prize will be sent directly to your VeraWallet.

For more information regarding the competition & Rules, See the Official Announcement.

If you like the Verasity Airdrop, don't forget to upvote and comment below.
Estimated value
Leaderboard Competition
Verasity Video