Closed
Unverified
Vostok (VST) Airdrop
It looks like you are too late! This airdrop is closed
Looking for new airdrops?
Visit our Featured & New Airdrops pages.
Vostok Airdrop is for WAVES and WCT holders, with a total of 30 million VST tokens.

About Vostok

Vostok has been created to connect large-scale enterprises, public administration services, banks, registries and payment providers to form the foundation of next-generation infrastructure for certifying, registering and tracking the data.

Would you like to receive the latest free Airdrop Alerts? Join our Airdropalert Telegram.
How to join the Vostok Airdrop?
Tokens Per Airdrop Same amount as your WAVES/WCT holdings
Tokens Per Referral No referral program
Team KYC Not completed by team yet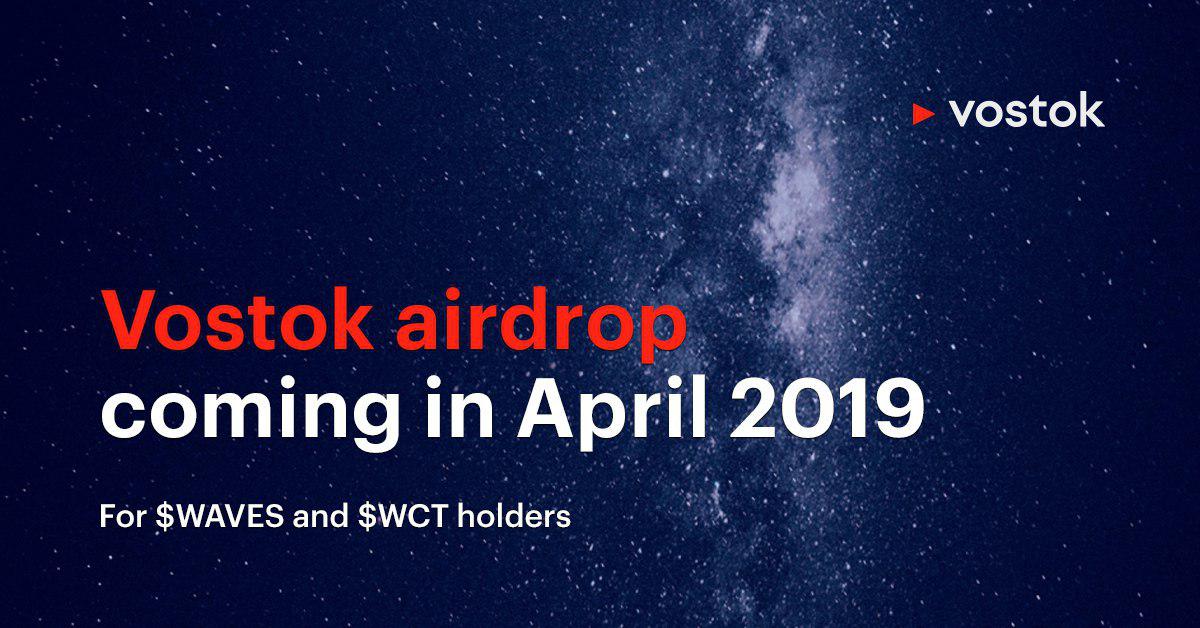 Native blockchain
Step-by-Step Guide Vostok Airdrop
The airdrop will be conducted to all Waves addresses, excluding known exchanges.
Your address must contain a minimum of 1 WAVES token, or 1 WCT token, or both.
The same amount of VST tokens per WAVES/WCT token will be airdropped, so ratio is 1:1.
There will be taken daily snapshots of WAVES and/or WCT holdings for every address over the period of February 1st and April 1st to ensure a smooth airdrop, with distribution made according to the average balance over this period time.
The airdrop wil be dropped in the first week of April, in WAVES tokens that will be swapped for Vostok tokens once Vostok's network is operational.
For more information regarding the airdrop, read this message in Waves Telegram of this tweet from the founder.

If you use the ''CLAIM AIRDROP'' button below to claim the Vostok Airdrop, it will automatically show on the main page with a purple check mark. So you can easily track which airdrops you joined and which ones you need to join.
Estimated value
n/a