Closed
Verified
Vostok round 2 (VST) Airdrop
It looks like you are too late! This airdrop is closed
Looking for new airdrops?
Visit our Featured & New Airdrops pages.
Vostok Airdrop Round 2 is for WAVES and WCT holders, with a total of 10 million VST tokens.

About Vostok

Vostok has been created by ''Sasha Ivanov'', the founder of Waves platform. Vostok is a grand-scale, powerful, lucrative long-term blockchain project backed by a timely technological breakthrough, pioneering organizational solution, and the infrastructure needs of the digital economy.

Would you like to receive the latest free Airdrop Alerts? Join our Telegram or Twitter.
How to join the Vostok round 2 Airdrop?
Tokens Per Airdrop Same amount as your WAVES/WCT holdings
Tokens Per Referral No Referral Program
Team KYC Not completed by team yet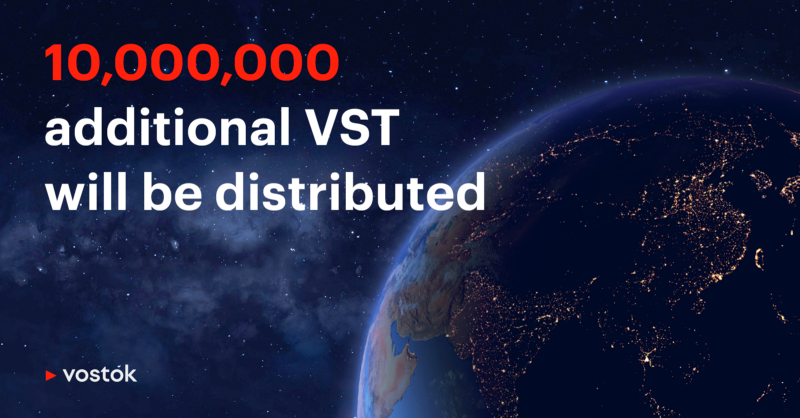 Native blockchain
Step-by-Step Guide Vostok Airdrop Round 2
The airdrop will be conducted to all Waves addresses, excluding known exchanges.
Your address must contain a minimum of 1 WAVES token, or 1 WCT token, or both.
The same amount of VST tokens per WAVES/WCT token will be airdropped in a ratio is 1:1 to Waves accounts that hold WAVES and WCT from 1 April to 31 May.
To participate in the second phase, you will need to log in using Waves Keeper chrome extension or send 0.0001 WAVES to this address: 3PBNiHBcp8rxiYkGVGNHEGZHEamb1aXeWVv. Note: Users who do not follow the verification process between 1 April and 31 May will not receive an airdrop in the second phase.
The airdrop will take place directly after the new snapshot period is over, with one airdrop distributing tokens for both phases.
Additional: Like and share this Tweet for a chance to win 5000 USD worth of Waves tokens.
Read this blog for information about Waves.
For more information regarding the airdrop, read this Medium article and this tweet from the founder.

If you like the Vostok Airdrop phase 2, don't forget to upvote and comment below.
Estimated value
10 million VST tokens in Total
Interview with Sasha Ivanov - Founder & CEO, Waves Platform & Vostok Project