Verified
WEYU (WEYU) Airdrop
WEYU Whitelist + Airdrop is worth 25,000,000 $WEYU tokens (~$ 175,000) to be distributed among ticket holders relative to the number of tickets they have. For example, you have 10 tickets and there was a total of 1000 tickets. That means you receive 250,000 $WEYU tokens. This is a guaranteed Airdrop and not a Lottery.
Also, every day that the whitelist is open WEYU will be giving away 1 very special NFT to a random member of the whitelist.

About WEYU

WEYU is the world's first Multi-Chain Platform designed specifically for the NFT resale market. WEYU believes that the future of NFTs will be multi-blockchain accessible and available to all on a single unified platform. WEYU platform users can easily resell their NFTs regardless of which blockchain, platform, or token standard they were minted on.
WEYU aims to drive adoption and inclusion by implementing a wide range of payment options and gateways in order to build the most vibrant NFT ecosystem in the industry.
The WEYU token economy is built on frameworks that explore multiple dimensions of token utility across the platform, community, and business models. WEYU implements a feature popularized by the SafeMoon project, in addition to many utility variables. This feature embeds a fee within the token, which rewards token holders, generates additional liquidity, and automatically burns a portion of the fees.

How to join the WEYU Airdrop?
Requirements to earn free crypto coins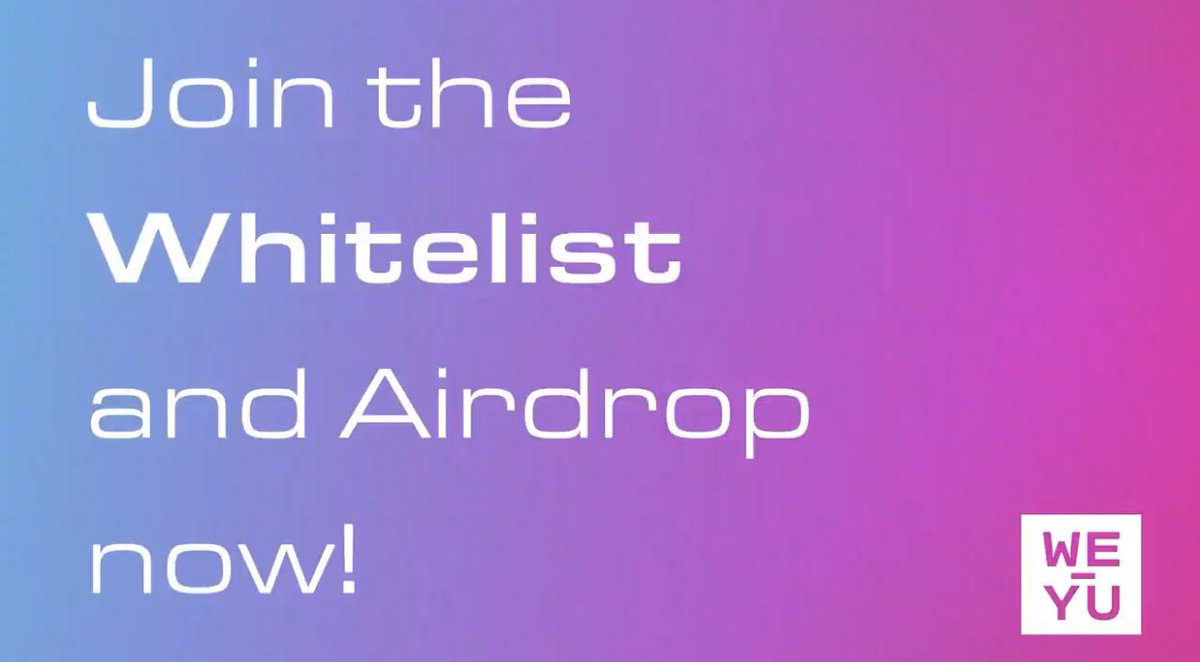 Native blockchain
Step-by-Step Guide ''WEYU Whitelist + Airdrop''
Go to the WEYU Airdrop page. Watch this Airdrop Tutorial Video.
Registering for the WEYU whitelist already gets you 3 lottery tickets. Whitelist winners are randomly selected after the whitelist closes.
Connect Your Telegram & Your email.
Perform social tasks to earn more tickets. You can earn a maximum of 200 tickets!
Share your referral link with your friends and if they join the WEYU whitelist, you get 2x tickets. All your earned tickets show up at the top of your WEYU profile page. A WEYU ticket represents your chance of getting into the Private Presale (a lottery ticket) and represents a share in the WEYU Airdrop.
Also, every day that the whitelist is open WEYU will be giving away 1 very special NFT to a random member of the whitelist.
If you like the WEYU Airdrop, don't forget to like and comment below!



Disclaimer: Investors should take the time to research any given product before they invest their funds.
Estimated value
~$ 175,000 Prize pool
What is WEYU? - Official Video