Caution
Verified
WhiteBit X BlockNoteX (BNOX & BSO) Airdrop
WhiteBit X BlockNoteX Airdrop is worth 1,750 BNOX and 10 BSO tokens in total. 350 lucky participants will get 5 BNOX tokens (~$ 3) each and 10 lucky participants will get 1 BSO token each.

About WhiteBit & BlockNoteX

BlockNoteX (BNOX) is a digital currency with a 100% gold deposit on the Ethereum blockchain. The gold behind BNOX is 0.9999 fine investment gold stored in Zurich. A 100 BNOX is equal to 1 gram of gold, and its price changes in line with the current gold exchange rate. Both BNOX and BSO tokens refer to BlockBen, a comprehensive platform that provides access to the privileged enterprise blockchain technology and facilitates software development on it. BlockBen is a technological layer behind BlockStock and BlockNote products. BlockStock (BSO) is a BlockBen's technical asset that is 10% backed by gold.

WhiteBIT is one of the most secure trading platforms in the world built on cutting-edge technology. WhiteBIT provides an institutional-grade experience for professional and novice customers alike. The Company is headquartered in Ukraine.

StormGain Airdrop is worth Free 25 USDT tokens plus up to 15% Bonus on first deposit.
How to join the WhiteBit X BlockNoteX Airdrop?
Tokens Per Airdrop Giveaway Contest
Tokens Per Referral No Referral Program
KYC KYC is not a requirement
Requirements to earn free crypto coins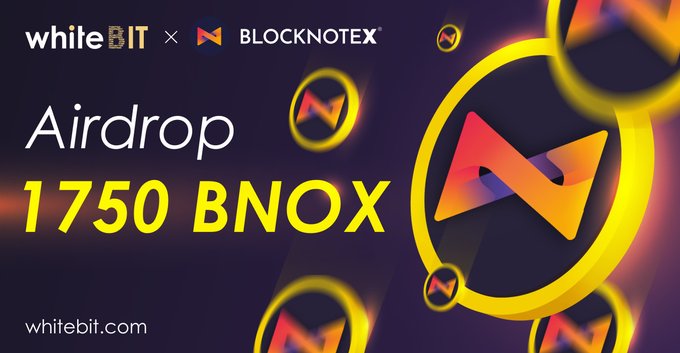 Native blockchain
Step-by-Step Guide ''WhiteBit & BlockNoteX Airdrop''
Visit the WhiteBit x BNOX Airdrop form.
Have a WhiteBit exchange account.
Follow BlockNoteX on Twitter and like, retweet one tweet.
Follow Blockben on YouTube.
Submit details to the Airdrop form.
350 lucky participants will get 5 BNOX tokens each and 10 lucky participants will get 1 BSO token each.
Join BNOX SMART Staking to multiply your streams of income!
Disclaimer: Investors should take the time to research any given DeFi product before they invest their funds.

If you like WhiteBit & BlockNoteX Airdrop, don't forget to upvote and comment below. ''Buy Bitcoin with Credit Card''
Estimated value
n/a
BlockBen Video