Caution
Unverified
xDeFi (XDEX) Airdrop
xDeFi Airdrop is worth 30 XDEX tokens for the Top 5,000 participants. Also, The top 3 users with the highest entries will receive special rewards:
1st winner: 10,000 XDEX, 2nd winner: 5,000 XDEX, 3rd winner: 3,000 XDEX.
Also, xDeFi is launching Reward on Kovan testnet. All users are invited to test and experience the Swap, Pool and xHalfLife functional modules. During this test, valid users participating in the test can share a token incentive of 100,000 XDEX tokens (Excluding bug rewards).

About xDeFi

xDeFi is a decentralised Universal Basic Income platform based on personal currencies. The xDeFi protocol stack has launched on the Ethereum Kovan testnet on December 15, 2020, and from February 7, 2021, all users have been invited to test and experience Swap, Pool, Farm and HalfLife functional modules with prizes. In order to let more users that played DeFi pay attention to the xDeFi and experience related functions, xDeFi has specially launched a referral program to follow xDeFi and win massive rewards.
StormGain Airdrop is worth Free 25 USDT tokens plus up to 15% Bonus on first deposit.
How to join the xDeFi Airdrop?
Tokens Per Airdrop up to 50 XDEX
Tokens Per Referral Leaderboard based
KYC KYC is not a requirement
Requirements to earn free crypto coins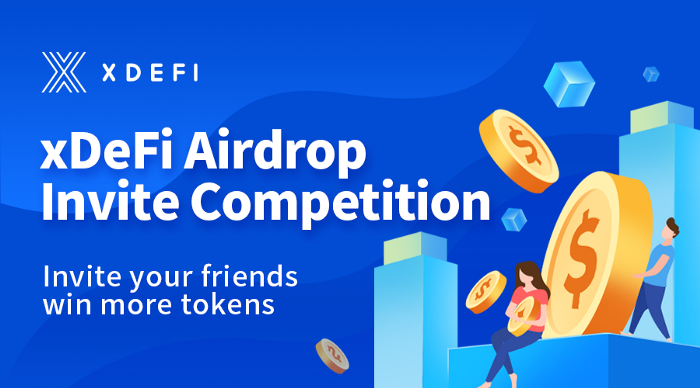 Native blockchain
Step-by-Step Guide ''xDeFi Airdrop''
Visit the xDeFi Airdrop page.
Log in to your account via email, discord, Facebook, Google or Twitter.
Earn entries. by completing the different social tasks.
Share your referral link and earn 20 entries for each referral.
Submit your Ethereum wallet address.
Top 5000 participants will get 30 XDEX tokens.
The top 3 users with the highest entries will receive special rewards worth up to 10,000 XDEX tokens.
Experience xDeFi immediately and Share 100,000 XDEX.
Note: We labelled this airdrop with ''Unverified'' label due to the limited public information on Team & Company.
Disclaimer: Investors should take the time to research any given DeFi product before they invest their funds.
For more information, please see the xDeFi Airdrop blog.

If you like the xDeFi Airdrop, don't forget to upvote and comment below. ''Buy Bitcoin with Credit Card''
Estimated value
n/a