Verified
XPLA ($XPLA) Airdrop
XPLA Airdrop prize pool is worth 43,000 $XPLA tokens (~$ 20,000) for 3,100 Pilots to celebrate the New beginning.

About XPLA

XPLA is an open-source universal Gaming and Entertainment blockchain hosting a vibrant ecosystem of ÐApps and top-tier developer tools, powered by Cosmos SDK and secured by Tendermint.
The XPLA Chain can be easily connected with other various chains and is developer-friendly. Using proof-of-stake consensus, EVM Compatibility, XPLA Chain SDK, a software kit for the game developers, and XPLA Vault would give the users extensive experiences of DeFi, Play to Own (P2O) gaming, and lastly, would lead to the adoption of Web 2 users to Web 3 space. Also, $XPLA is the XPLA Chain's native staking token used for governance and staking.
How to join the XPLA Airdrop?
Prize Pool 43,000 $XPLA
Winners 3,000 Random & Top 100
Deadline 13 November @ 9 AM (UTC)
Requirements to earn free crypto coins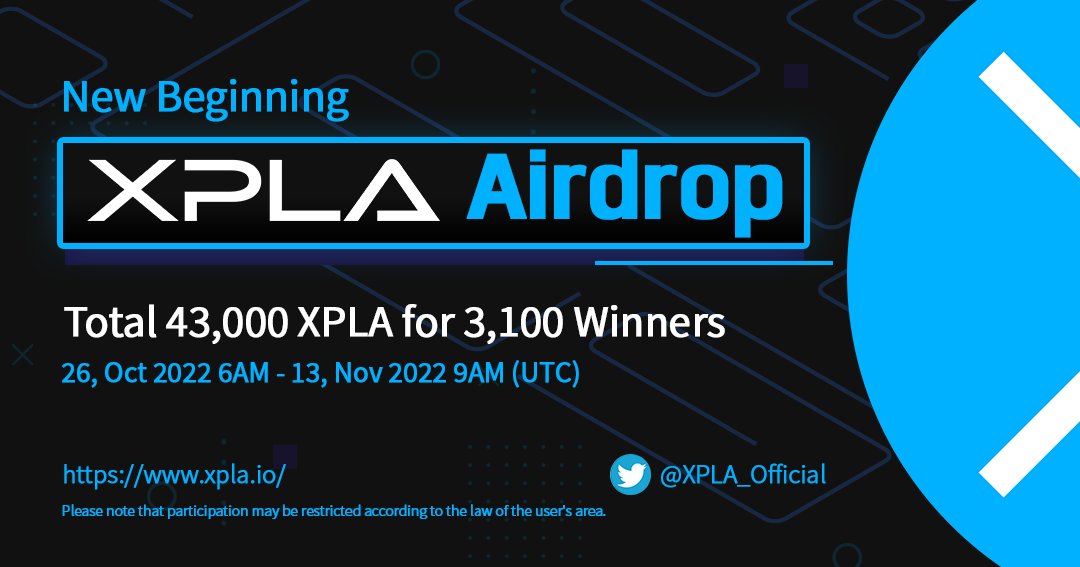 Native blockchain
Step-by-Step Guide ''XPLA Airdrop''
Login to the XPLA Airdrop Gleam page.
Join XPLA on Telegram.
Follow @XPLA_Official on Twitter & RT this Tweet.
Follow @C2X_WORLD on Twitter. C2X is the Blockchain Gaming Platform on XPLA. If you have $CTX in your C2X Station, Migrate to XPLA.
Follow @XPLA_Official on Medium.
Submit your XPLA Vault wallet address.
Invite friends to increase your chances of winning.

▪️ Random 3,000 Pilots will get 10 $XPLA tokens Each & The Top 100 will get up to 1,000 $XPLA tokens. Good Luck!
* Event rewards will not be distributed immediately after the event. The date and method of distribution will be announced later via Twitter & Medium.

Like and share the XPLA Airdrop on your favourite social media!

When using decentralized applications (ÐApps), it's critical to remember that YOU are responsible for the security of your digital assets!
Disclaimer: Investors should take the time to research any given product before they invest their funds (DYOR).
Estimated value
~$ 20,000 Prize Pool
Additional ICO information
Total Supply 2,000,000,000 $XPLA
Blockchain Network XPLA
Markets Gate.io - FTX - BingX