Airdropalert
Exclusive
Verified
2 Year Anniversary (CC) Airdrop
It looks like you are too late! This airdrop is closed
Looking for new airdrops?
Visit our Featured & New Airdrops pages.
2 Year Anniversary Airdrop is worth 1 million Cultural Places (CC) tokens in total. Every airdrop participant will receive up to 75 CC tokens. Earn more CC tokens by referring your friends!
As you might have noticed before, at Airdrop Alert we like to give back to our community. We have regular giveaways and distribution of the free tokens is often a few weeks after we finish the campaign. You can see the distribution of previous giveaways of March, our 5 year celebrations Airdrop and May, which were successfully completed. For this 2 Year Anniversary GiveAway we will keep it simple. Create a dashboard account and join us on Telegram, Facebook & Instagram.
About Cultural Places (CC)
Cultural Places is the first holistic platform in the cultural sector that connects visitors, institutions, artists, content creators and donors. Cultural Places will disrupt the cultural sector as it redefines the relations between all stakeholders and creates new business opportunities. The core is its own crypto currency – the Cultural Coin – based on blockchain technology, that reinvents and simplifies cultural financing, sponsoring and ticketing.

New referral system (BETA)

In addition, we're testing a new referral system with this airdrop. If you run into any issue, please create a ticket and let us know what the problem is.
How to join the 2 Year Anniversary Airdrop?
Tokens per airdrop up to 75 CC tokens
Tokens per referral up to 250 CC
Total Supply allocated for Airdrop 1 million CC tokens
Requirements to earn free crypto coins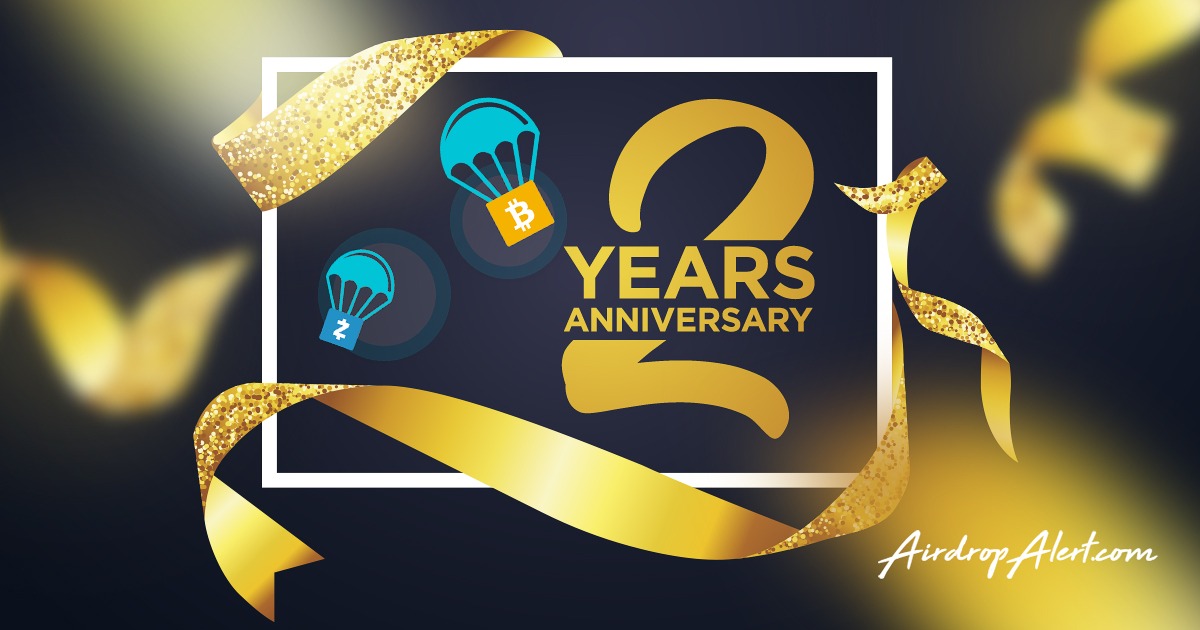 Native blockchain
Step-by-Step Guide 2 Year Anniversary Airdrop
Create an account on AirdropAlert Dashboard.
Submit your ETH Wallet Address and other details to the 2 Year Anniversary Airdrop form.
For additional CC tokens, complete the survey. (+ 25 CC, this will take you ± 3 minutes)
The CC tokens will be distributed at the end of August, 2019.
Share your referral link to earn more CC tokens. You will receive your unique referral link in the airdrop confirmation mail.
Referral Bonuses
If you refer 1 to 3 users you will receive additional 50 CC tokens. Total airdrop is 100 CC tokens.
If you refer 4 to 10 users you will receive additional 100 CC tokens. Total airdrop is 200 CC tokens.
If you refer 11 users or more, you will receive additional 250 CC tokens. Total airdrop is 300 CC tokens.
If you complete the airdrop + survey + referral 11 friends or more, the maximum reward is 325 CC tokens.
Note: If you are already a dashboard user and a social follower of Airdrop Alert, you can still earn this airdrop by referring minimum of 1 friend. The same rule applies if you joined our previous bonus airdrops.
If you like the 2 Year Anniversary Airdrop, don't forget to upvote and comment below.
Estimated value
n/a
Cultural Places Video