Closed
Verified
Binance Chinese New Year 2020 (NFT) Airdrop
It looks like you are too late! This airdrop is closed
Looking for new airdrops?
Visit our Featured & New Airdrops pages.
To celebrate Chinese New Year 2020, 'The year of the Rat', Binance is issuing a brand new limited edition NFT. Follow the steps and earn a Guaranteed Limited Edition Binance NFT - Happy New Year 2020!
About Binance
Binance is the world's leading crypto exchange and one of the fastest success stories in the blockchain industry. Binance's technology is used by more than 30 exchanges around the world today, including Binance Uganda. It was founded in 2017, by Changpeng Zhao (current CEO) and Yi He, and is located on the crypto-friendly island of Malta. The platform offers two options for trading: basic, suitable for beginners, and advanced, for more experienced traders.
Binance held its ICO in July 2017. From there, the exchange decided to issue its own coin called 'Binance Coin', the native asset on Binance Chain. BNB has multiple forms of utility and powers the Binance Ecosystem as its underlying gas. The coin was established with a total supply of 200 million. Every quarter, Binance destroys BNB based on the trading volume until 50% of all the BNB is destroyed.
Binance has low transaction fees, generally around 0.1% of each trade. Also, for Initial Exchange Offering (IEO), Binance developed a fundraising Binance Launchpad platform and Binance Charity Wallet.
Binance Jersey is built on technology developed by Binance. Jersey is already a leading jurisdiction for asset management and other sectors of Financial Services and has also been a leader in ICOs and crypto. Binance looks forward to expanding its business into a jurisdiction that already has highly-trained and experienced financial services professionals. It provides secure and reliable trading of the Euro (EUR) and British Pound (GBP) with Bitcoin (BTC) and Ethereum (ETH), in addition to digital asset management services to users from around the world.
Binance launched its new decentralized exchange, the Binance Dex, which takes security to a whole new level. Peer-to-peer transfers and trades mean virtually zero exposure to security threats. It allows you the freedom to choose from convenient keystores to ultra-secure hardware wallet options.

Would you like to earn Ethereum with Airdrop Alert? Have a look at our ETH referral Airdrop!
How to join the Binance Chinese New Year 2020 Airdrop?
Tokens Per Airdrop A maximum of one collectable
Airdrop End Date 2020/1/27 3:00 pm (UTC)
Airdrop Distribution Within 14 days of the promotion ending
Requirements to earn free crypto coins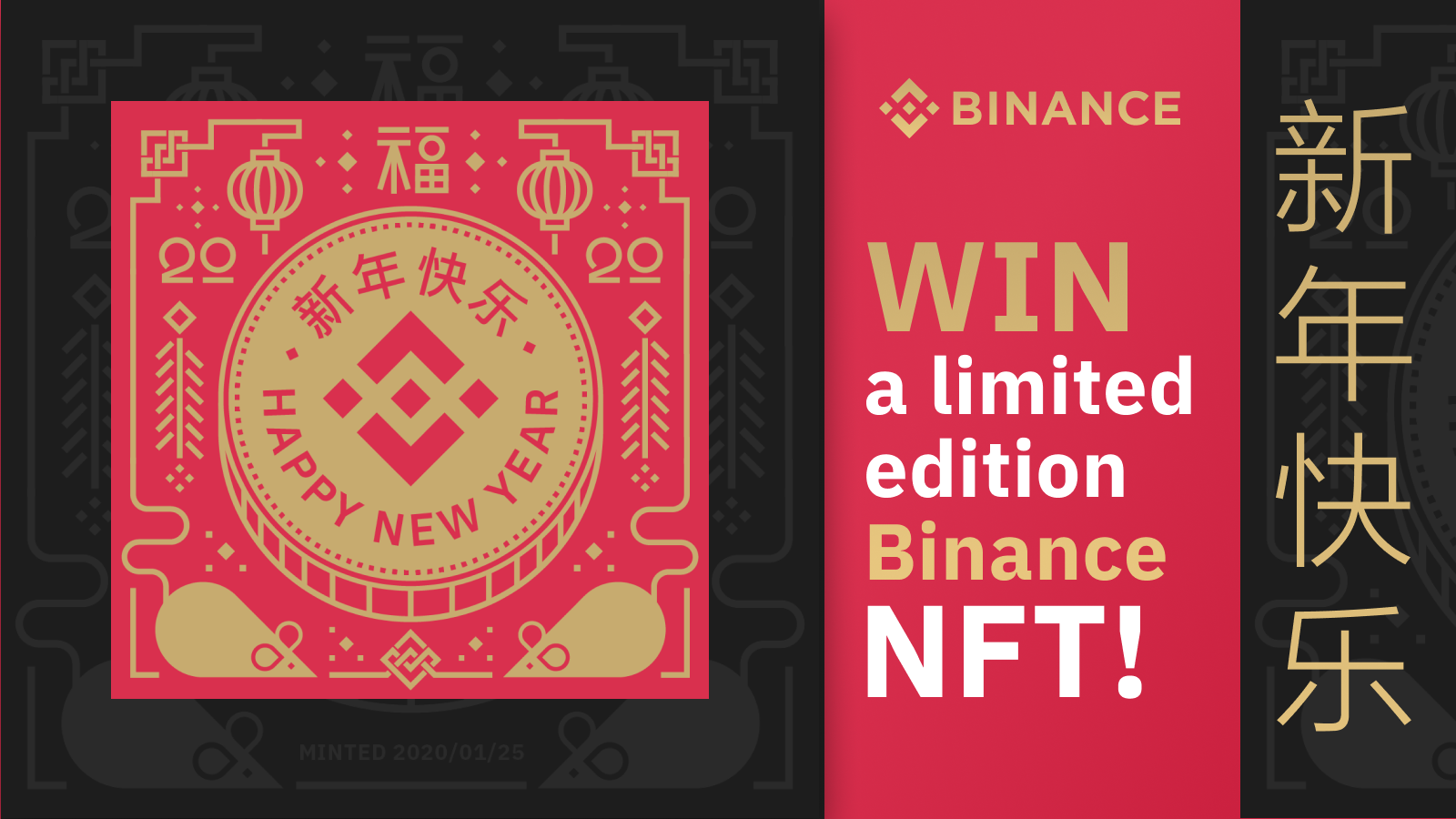 Native blockchain
Step-by-Step Guide Binance Airdrop
- The social media account you used to complete the above requirements and share the activity with #BinanceCollectibles
- Your Binance account referral ID
(For users from Nigeria, please fill in this form instead)
Happy New Year 2020 NFT Limited Edition will be minted as per the number of eligible participants and sent to eligible addresses within 14 days of the promotion ending by 2020/1/27 3:00 pm (UTC). A maximum of one collectable can be redeemed per ETH deposit address, social media account and Binance account.

WARNING: If you do not use an ERC-1155 compatible wallet, you will be unable to receive the NFT. Binance recommends using Trust Wallet to receive your NFT. Learn how to create a wallet with Trust here

For more info regarding the Binance Limited Edition NFT Airdrop, please read the Official Announcement.
If you like the Binance Airdrop, don't forget to upvote and comment below.
Estimated value
Limited edition
Binance By The Numbers: 2019 Video