Sponsored
Citizen Token ($CTZN) Airdrop
In celebration of the upcoming launch of Citizen Token, the Citizen team is holding an AIRDROP EVENT with $20,000 worth of $CTZN up for grabs to be delivered to 1,000 lucky winners!

About Citizen Token

Citizen is a fintech company committed to simplifying the way we pay, providing instant cardless payments that are easy to integrate and a delight to use. Based on open banking standards, Citizen's PayBlox platform comprises a purpose-built online toolkit that traders and merchants can deploy to optimise every stage of their payment processes - reducing costs and materially enhancing the customer experience. Making an account-to-account payment couldn't be easier.
$CTZN is the native crypto token that powers the ecosystem, enabling users to earn instant and ongoing rewards when paying online. Holding the token then unlocks additional earning potential such as inclusion in the quarterly performance bonus, and loyalty bonus pool; for ongoing passive returns.
How to join the Citizen Token Airdrop?
Prize Pool $20,000 worth of $CTZN
Winners 1,000 random winners
Deadline 12th September @ 11.59 PM BST
Requirements to earn free crypto coins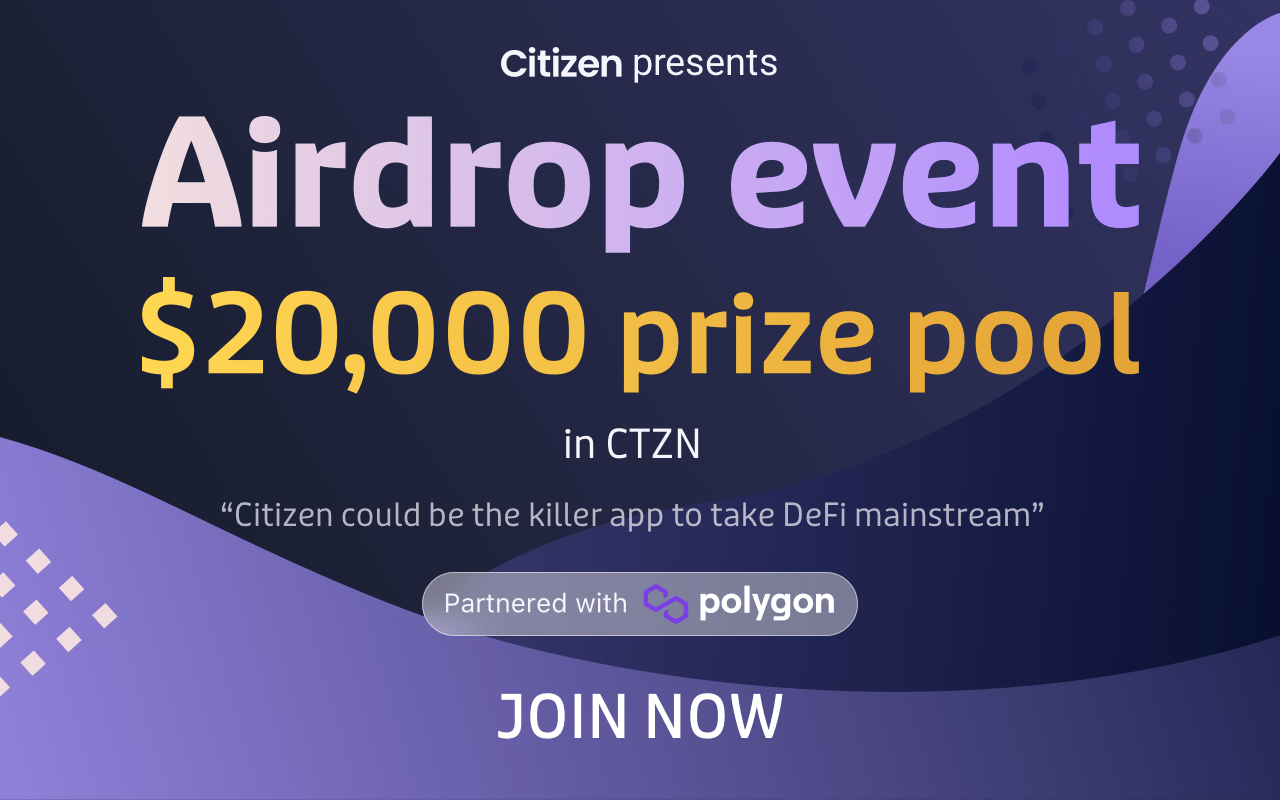 Native blockchain
Step-by-Step Guide ''Citizen Token Airdrop''
Login to the Citizen Token Airdrop Gleam page.
Follow @Citizen_Token on Twitter & Tweet.
Sign-up for the waitlist.
Submit your Polygon wallet address.

▪️ 10 winners get the top prize worth $500 of $CTZN & 990 winners receive the 2nd prize worth $15 of $CTZN.

Like and share the Citizen Token Airdrop on your favourite social media!
When using decentralized applications (ÐApps), it's critical to remember that YOU are responsible for the security of your digital assets!
Disclaimer: Investors should take the time to research any given product before they invest their funds (DYOR).
Estimated value
~$ 20,000 Prize Pool