Verified
Coincrib ($CRIB) Airdrop
Introducing the Coincrib Airdrop: an exclusive chance to earn rewards in $CRIB tokens. Complete tasks for a share of the $10,000 prize pool. Don't miss out on this opportunity!
About Coincrib
CoinCrib revolutionizes online shopping with its pioneering All-In-One Crypto E-commerce Marketplace. Armed with an in-house payment system and banking infrastructure, this integration seamlessly facilitates a wide range of transactions—encompassing product sales, event reservations, tuition coverage, and global item rentals. By dismantling traditional barriers, CoinCrib ushers in a new era of transformative shopping experiences.
As ICO nears in October 2023, the $CRIB token stands as the bedrock of CoinCrib's journey, propelling the platform's trajectory through the avenues of voting and donations. It guarantees secure marketplace transactions, having successfully navigated the SOLIDproof audit.
How to join the Coincrib Airdrop?
Prize Pool $10,000 worth of $CRIB
End Date September 5, 2023, 11:59 pm
Distribution Date Announcement on September 5th
Requirements to earn free crypto coins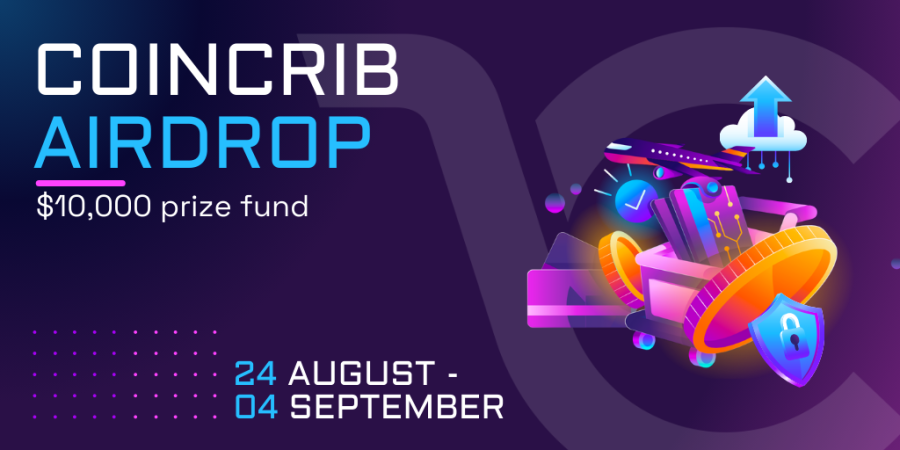 Native blockchain
Step-by-Step Guide ''Coincrib Airdrop''

▪️ 5,000 lucky participants will each receive $2 worth of $CRIB tokens. Good luck!
* Check the Twitter profile daily and engage with the Telegram chat to keep updated.

When using decentralized applications (ÐApps), it's critical to remember that YOU are responsible for the security of your digital assets!
Disclaimer: This content is not intended to be financial advice. Investors should take the time to research any given product before depositing or investing their funds.
Estimated value
~$ 10,000 Prize Pool
Additional ICO information
Total Supply 1,000,000,000 $CRIB
Blockchain Binance Smart Chain
ICO Phase 1 October 2023 - $0.012
Coincrib.io: Revolutionizing Crypto E-commerce – Shop, Rent, Book & More!