Verified
Crypto APIs (API) Airdrop
Crypto APIs Airdrop is worth 50 API tokens (~$ 15). Share your referral link to earn 1 API token (~$ 0.30) per referral, with a maximum of 10 referrals.
About Crypto APIs
Crypto APIs is the backbone of any project in a Billion dollar blockchain industry. Their mission is to help with the Crypto & Blockchain adoption by giving the community the opportunity to build any idea faster and cheaper. They build developer-friendly infrastructure, and scalable tools that give everyone the ability to create amazing products that solve big problems.

Features
Blockchain as a service (BaaS)
Supports Bitcoin (test net, main net), Ethereum (ropsten, rinkeby, main net), Litecoin (test net, main net), Bitcoin Cash (test net), EOS(test net), DOGE(test net), Stellar(test net), DASH(test net)

Crypto Market Data APIs
Supports Exchange Rates, Quotes, Trades, OHLCV, Candles, etc.We support Live and Historical data, the data comes from 150+ crypto exchanges.

Exchanges & Wallets Account Management APIs
50+ exchanges are already integrated.
Would you like to receive the latest free Airdrop Alerts? Join our Telegram or Twitter.
How to join the Crypto APIs Airdrop?
Tokens per airdrop 50 API
Tokens per referral 1 API, up to 10 referrals
Total Supply allocated for Airdrop 1.000.000 API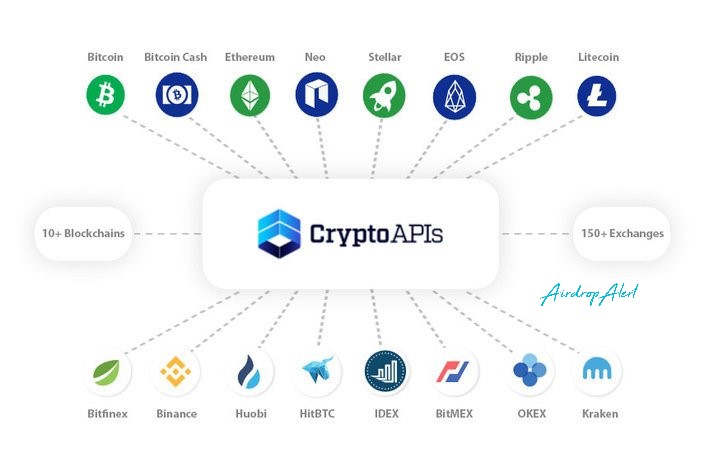 Native blockchain
Step-by-Step Guide Crypto APIs Airdrop
Register for the Crypto APIs Airdrop, by creating an account.
Verify your mail, go to your dashboard & click on ''Airdrop'' on the left side.
Join Crypto APIs on Telegram & write a meaningful comment. No spam allowed.
Follow Crypto APIs on Twitter & retweet the pinned tweet.
Like Crypto APIs on Facebook & write a review.
Follow Crypto APIs on Github.
Add the Kryptonize Plugin to chrome, review it, register an account and confirm it.
Upvote Crypto APIs on Product hunt. (optional)
Submit your details to the Airdrop page.
Refer friends and earn 1 API per referral, with a maximum of 10 referrals. For your referral, click on ''Referral link'' in the left menu.
Note: after completing the steps, you can see the tokens you've earned when you log into the token sale platform. After the claim date is reached all airdrop participants will be able to claim the tokens to the personal wallet. The exact date will be announced on the official channels. KYC is mandatory to claim the airdrop tokens.
If you like the Crypto APIs Airdrop, don't forget to upvote and comment below.
Estimated value
~$ 15 + referral
Additional ICO information
Token Ticker API
Token Type Utility
Platform Ethereum
Total Token Supply 200,000,000 API
Token Price 1 API = $ 0.30
Country Bulgaria