Featured
Verified
CryptoKnowmics (CKM) Airdrop
It looks like you are too late! This airdrop is closed
Looking for new airdrops?
Visit our Featured & New Airdrops pages.
CryptoKnowmics Airdrop is worth $1 Million of CKM tokens in total. Minimum rewards are $5 worth of CKM tokens, up to 2,083 CKM tokens each (Min. 1000 points to qualify). The maximum reward is $25000 (up to 10,416,667 CKM). Share your referral link to earn 100 Points (~$ 0,50) for every referral.

About CryptoKnowmics

CryptoKnowmics is an innovative, decentralized platform that serves almost every aspect of the crypto space. It aims to be the top destination and the largest media portal in the crypto space and the all-in-one solution for information and services for the blockchain industry.
How to join the CryptoKnowmics Airdrop?
Tokens Per Airdrop Contest Leaderboard
Tokens Per Referral 100 points
Total Airdrop $1 Million worth of CKM tokens
Requirements to earn free crypto coins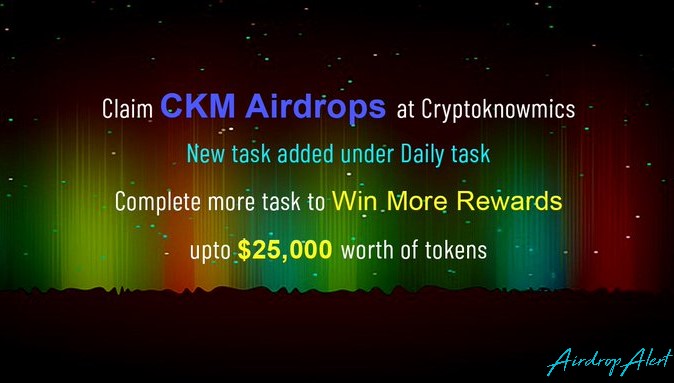 Native blockchain
Step-by-Step Guide CryptoKnowmics Airdrop
Register for the CryptoKnowmics Airdrop, by creating an account.
Verify your mail,lLog in to your account and click on ''claim airdrop''.
Join CryptoKnowmics on Telegram. (+ 100 pts)
Follow CryptoKnowmics on Twitter. (+ 100 pts)
Follow CryptoKnowmics on LinkedIn. (+ 100 pts)
Similarly, perform the different social tasks to earn up to 2200 points.
Submit your Ethereum wallet address and other details to the Airdrop page.
New tasks will be added periodically to provide you with numerous opportunities to earn more and more tokens.
Share your referral link to earn 100 points for every referral.

Note: For every task, you will receive a predetermined amount of points. Once the airdrop campaign is finished, a part of $1 Million worth of CKM tokens allotted in the rewards pool will be earned by you. This will be relative to the number of points that you have collected during the campaign.

Check the Airdrop Rules page for more details.

If you like the CryptoKnowmics Airdrop, don't forget to upvote and comment below.
Estimated value
Up to ~$ 25.000
Additional ICO information
ICO Start Date 10 July, 2019
ICO price 1 CKM = 0.0024 USD
Hard Cap 6 Million USD
Total Supply 10,000,000,000 CKM
Blockchain Standard ERC-20 Based Utility Token
Headquarters London, United Kingdom
CryptoKnowmics Video