Verified
DappRadar x Venus Finance (XVS) Airdrop
DappRadar x Venus Finance Airdrop is worth 0.1 XVS tokens per winner for 100 lucky winners.

About DappRadar & Venus Finance

DappRadar tracks over 3,000 ÐApps across multiple blockchains, including Ethereum, EOS, ONT and TRON, with plans to expand to others. It brings all the information people need about the ÐApp market into one place so they can make informed decisions. DappRadar filters through ÐApp data removes fake and irrelevant activity and provides actionable market intelligence. ÐApps are tracked in terms of their active users, token volume and transaction activity to provide insight into the trends in the ÐApp ecosystem.
Venus Finance is the leading decentralized algorithmic money market and stablecoin platform on Binance Smart Chain and enables borrowers and suppliers to access liquidity and earnings (Learn more).
How to join the DappRadar x Venus Finance Airdrop?
Tokens Per Airdrop Winner 0.1 XVS
Total Winners 100 lucky Winners
Airdrop End Date 4th April, 2021
Requirements to earn free crypto coins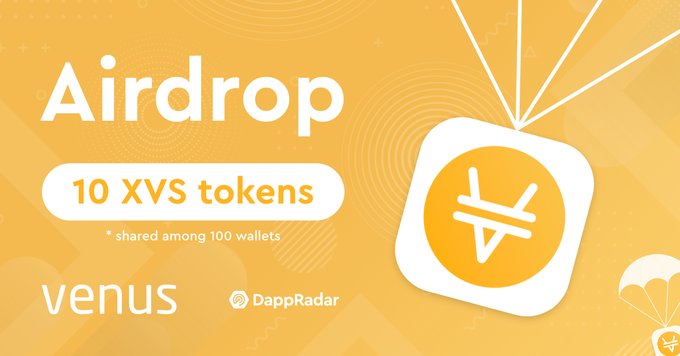 Native blockchain
Step-by-Step Guide ''DappRadar x Venus Finance Airdrop''
Visit the DappRaar x Venus Finance Airdrop page & Join the exclusive VENUS airdrop.
Log in to continue. To join this airdrop you'll need Binance Smart Chain or Metamask Wallet and an E-mail address.
Click on ''Join Now''.
Make sure to come back when the airdrop ends to check if you're among the lucky ones.

If you like the DappRadar x Venus Finance Airdrop, don't forget to Like/Comment below.
Estimated value
~$ 400 in total
Additional ICO information
Maximum Supply 30,000,000 XVS
Blockchain Standard Binance Smart Chain
Markets PancakeSwap, Binance, JulSwap, OpenOcean, Venus and Bithumb Global
DappRadar x VENUS Airdrop Video