Unverified
DexLab (DXL) Airdrop
DexLab Airdrop prize pool is worth 6,250,000 DXL tokens (~$ 125,000) to whitelist registrants.
Out of the submissions, only a total of 1,000 participants will be selected and eligible to participate in the IDO, which will be held from May 26, 14:00 UTC until May 28, 14:00 UTC. For those who did not win the luck of the draw for the whitelist, Dexlab will be distributing the airdrop of 6,250,000 $DXL tokens.

About DexLab

DexLab is a decentralized exchange where the best Solana projects mint and list their tokens.
Solana is a revolutionary open-source project implementing an innovative high-performance, permissionless blockchain, founded by former Qualcomm, Intel, and Dropbox engineers in late-2017, when Anatoly Yakovenko, the founder, published a whitepaper describing 'Proof of History', a technique for keeping time between computers that do not trust one another. Anatoly watched as blockchain systems without clocks, such as Bitcoin and Ethereum, struggled to scale beyond 15 transactions per second when centralized payment systems such as Visa required peaks of 65,000 tps. It is worth mentioning that Anatoly Yakovenko holds 2 patents for high-performance Operating Systems protocols.
How to join the DexLab Airdrop?
Total Airdrop Allocation 6,250,000 DXL
Whitelist for the IDO sale participation period May 21th 14:00 UTC - May 24th, 14:00 UTC
KYC KYC is a requirement if you participate in the IDO
Requirements to earn free crypto coins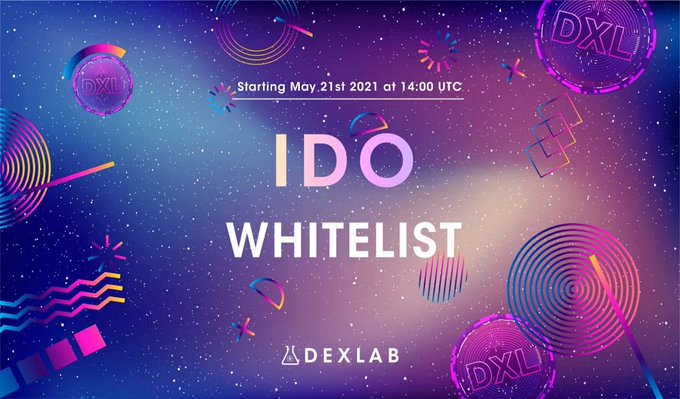 Native blockchain
Step-by-Step Guide ''DexLab Airdrop''
Visit the DexLab Airdrop page & Click on the "Airdrop Event & Whitelist On Live!" tab to access the form.
Join DexLab on Telegram.
Follow @Dexlab_official on Twitter.
Quote and Like the latest Tweet with the #hashtags #Dexlab #DXL #DXLIDO #IDO #IDOsale.
Submit your Solana wallet address and details to the Airdrop event form. you can also check out the DexLab wallet tutorial.
To participate in the IDO sale, you must comply with the Terms and Conditions. (DO NOT USE AN EXCHANGE ADDRESS)

For more information about Airdrop & IDO, please check the DexLab Airdrop event blog.

If you like the DexLab Airdrop, don't forget to like and comment below!
Disclaimer: Investors should take the time to research any given product before they invest their funds. ''Buy Crypto with a Credit Card''
Estimated value
~$ 125,000 in total
Additional ICO information
Total Supply 1,000,000,000 DXL
Initial Price 1 DXL = $0.02
Hard Cap $20,000,000
DexLab Video