Unverified
Drive2 ($DMT) Airdrop
Drive2 Airdrop prize pool is worth $300,000 of $DMT tokens for 20,000 lucky participants.

About Drive2

Drive2 is a Drive to Earn NFT game that well integrates driving with blockchain, where players can not only yield profit through driving but also receive real materials by means of game interaction.
In Drive2, players can drive their own Vehicles, and yield profit without much effort, which is sustainable, making it easy and fun through a combination of the economic benefits of blockchain and real-world utility and actions.
How to join the Drive2 Airdrop?
Total Airdrop Allocation $300,000 worth of $DMT for 20,000 lucky participants
Airdrop Deadline 20th July 2022 8:00 AM (UTC)
Airdrop Claim by 20 September 2022
Requirements to earn free crypto coins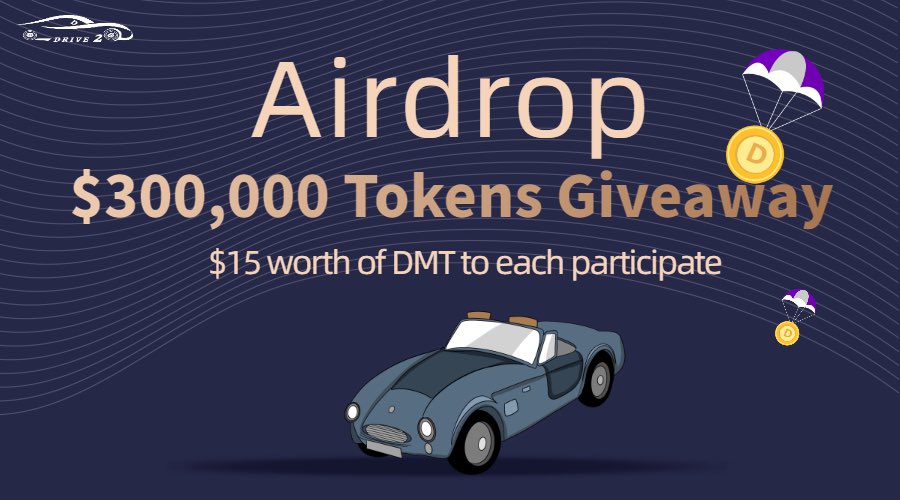 Native blockchain
Step-by-Step Guide ''Drive2 Airdrop''
▪️ 20,000 lucky participants will be selected to split the prize. Each eligible participant will receive $15 worth of $DMT tokens + $3 worth of $DMT for each invitation. Airdrop can be claimed by 20 September 2022.

Like and share the Drive2 Airdrop on your favourite SM!

Note: This Airdrop is labelled with the ''Unverified'' label because the team info is limited!
When using decentralized applications (ÐApps), it's critical to remember that YOU are responsible for the security of your digital assets!
Disclaimer: Investors should take the time to research any given product before they invest their funds (DYOR).
Estimated value
~$ 300,000
Drive2 - Unofficial Video Trailer