Verified
LooksRare ($LOOKS)
LooksRare Airdrop prize pool is worth 120,000,000 $LOOKS tokens (~$ 270,000,000), 12% of the total supply to the NFT community.

About LooksRare

LooksRare is the community-first NFT marketplace that actively rewards traders, collectors and creators for participating.
$LOOKS is LooksRare's native token. There's a 2% standard fee on all NFT trades (lower than the competition), and 100% of trading of those fees are earned directly by LOOKS stakers, so the more people trade on the marketplace, the more $WETH earned. The LooksRare marketplace indexes all NFT collections on the Ethereum blockchain.
How to join the LooksRare ?
Tokens per Airdrop up to 10,000 $LOOKS
Airdrop End Date Only live for a few days
Requirements to earn free crypto coins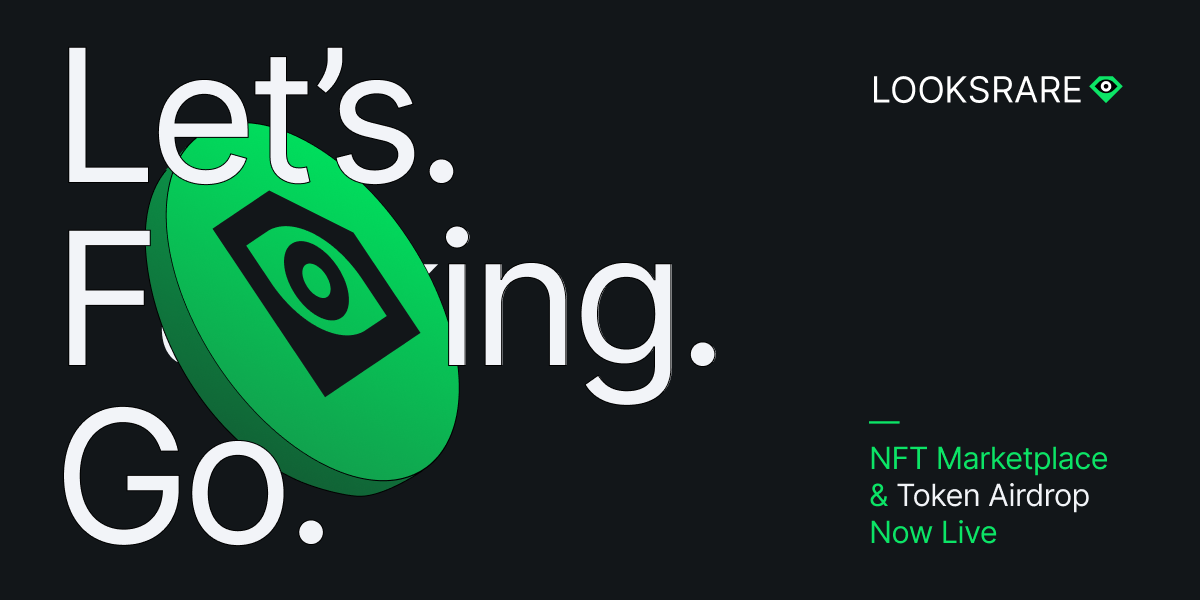 Native blockchain
Step-by-Step Guide ''LooksRare Airdrop''
Visit the LooksRare Airdrop page. If you traded 3 $ETH or more on Opensea between 16th Jun 2021 to 16th Dec 2021, you're eligible for an airdrop of $LOOKS Tokens, so long as you list an NFT for sale on LooksRare.
Connect your Metamask wallet & Hit the check button in the banner at the top of the homepage to see if you're eligible.
Set up your profile: Hurry and claim your username before 15th January 2022: And don't worry, They've reserved your Opensea username for you to get started easily, but only until then.
List any ERC-721 or ERC-1155 NFT for sale from your account page, so that you're eligible for the $LOOKS Token Airdrop. They've added an initial list of collections that are eligible for trading rewards at launch: view them here. (Mandatory)
LooksRare has set 9 different tiers for the Airdrop. Each eligible wallet will be able to claim an amount of LOOKS corresponding to their total trading volume in ETH. Smash the Claim Tokens button in the banner and confirm the transaction. You'll only be able to claim LOOKS from the airdrop during a short window of 7-10 days (exact time TBD). Unclaimed tokens by the end of the airdrop period will go to the treasury for use in ecosystem development.
Go stake your $LOOKS on the Rewards page to start earning trading fees. (Optional)

Like and share the LooksRare Airdrop on your favourite SM!

When using decentralized applications (ÐApps), it's critical to remember that YOU are responsible for the security of your digital assets!
Disclaimer: Investors should take the time to research any given product before they invest their funds (DYOR).
Estimated value
~$ 270,000,000 Prize pool
Additional ICO information
Max Supply 1,000,000,000 $LOOKS
Blockchain Network Ethereum (ERC-20)
Markets Uniswap, MEXC, Huobi Global, Hotbit, BigOne...
LooksRare Airdrop - Unofficial Video Review