Verified
ELYSIA ($ELFI + RWA NFTs) Airdrop
ELYSIA NFT & Token Airdrop prize pool is worth 25 RWA NFTs + 100,000 $ELFI (~$ 4,000) to celebrate the launch of ELYSIA RWA NFT.

About ELYSIA

ELYSIA is a project that tokenizes real-world assets so that they can be used on the blockchain. The real-world asset tokens created through ELYSIA can be used in ELYFI, the DeFi project of the ELYSIA team.
RWA NFT is ELYSIA's new Korea Real Estate NFT, created with real estate-related bonds as collateral. This is a low-risk NFT because it is linked to real-world assets, and you can get back the principal plus a 20% APR reward just by holding it.
How to join the ELYSIA Airdrop?
Prize Pool 25 RWA NFTs + 100,000 $ELFI
Winners 259 Lucky Winners + Top 200
End Date 31 August 2022
Requirements to earn free crypto coins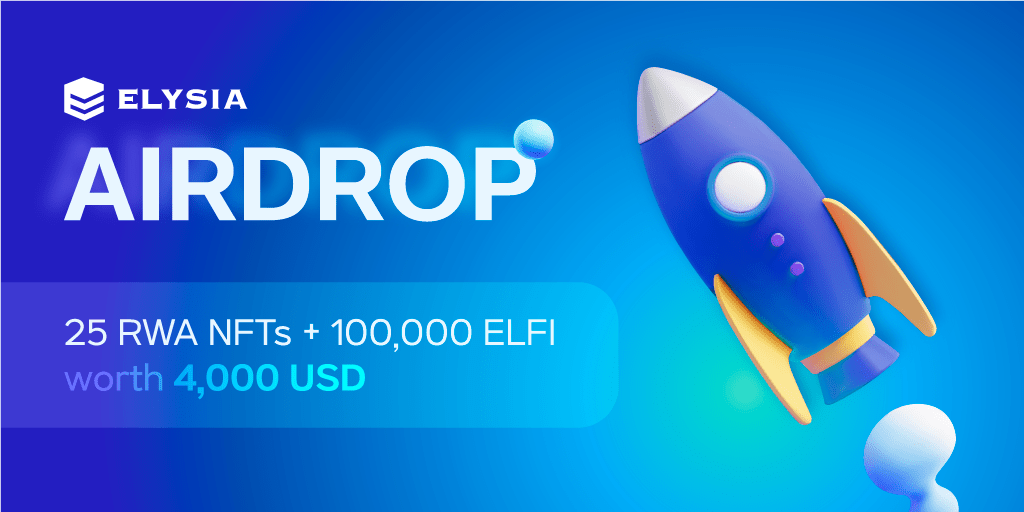 Native blockchain
Step-by-Step Guide ''ELYSIA Airdrop''
Login to the ELYSIA Airdrop Gleam page.
Follow @Elysia_HQ on Twitter & RT.
Submit your Metamask wallet address.

▪️ 🎁 Event Reward
● 🥇 Top1: 3 RWA NFT ($300)
● 🥈 Top2-Top5: 2 RWA NFT ($200)
● 🥉 Top6-Top10: 1 RWA NFT ($100)
● 🎖️ Top11-Top100: 500 $ELFI
● 🎖️ Top101-Top200: 300 $ELFI
● 🎁 9 Lucky Winners: 1 RWA NFT ($100) [Min: 70 entries]
● 🎁 250 Lucky Winners: 100 $ELFI [Min: 70 entries]

▪️ 🏆 RWA NFT Holder Benefits:
1️⃣ Lucky drop on the 15th of every month: 1 winner ($300)
2️⃣ NFT holders have voting rights and participate in the construction of real estate NFT DAOs
3️⃣ Enter the discord VIP channel for more information and rewards
4️⃣ Gleam Airdrop for NFT holders, complete tasks to get rewards

Like and share the ELYSIA Airdrop on your favourite social media!
When using decentralized applications (ÐApps), it's critical to remember that YOU are responsible for the security of your digital assets!
Disclaimer: Investors should take the time to research any given product before they invest their funds (DYOR).
Estimated value
~$ 4,000 Prize Pool
Additional ICO information
Max Supply 100,000,000 $ELFI
Blockchain Networks Ethereum & BNB Smart Chain
Markets Uniswap & PancakeSwap