Closed
Verified
European Cryptocurrency Exchange (EUCX) Airdrop
It looks like you are too late! This airdrop is closed
Looking for new airdrops?
Visit our Featured & New Airdrops pages.
European Cryptocurrency Exchange Airdrop Awareness Campaign is worth 500 EUCX tokens (~$ 13) for 35 randomly picked winners. Also, there are leaderboard prizes: 1st prize is 40,000 EUCX tokens (~$ 1,040), 2nd - 10th price is 5,000 EUCX tokens (~$130), 11th - 20th price is 3,000 EUCX tokens (~$ 78).

About European Cryptocurrency Exchange

The European Cryptocurrency Exchange (EUCX) is a curated cryptocurrency exchange and fiat on-ramp that fills the gap in secure and regulated exchanges for the sophisticated trader, professional trader and boutique firms. EUCX is cooperating with government organizations to develop new techniques in order to increase transparency and traceability of cryptocurrencies, as is required by the new AML5 law. In that respect, EUCX will not be listing so-called "Privacy coins". EUCX is rated 4.1/5 on ICO Bench.
How to join the European Cryptocurrency Exchange Airdrop?
Tokens Per Airdrop Giveaway Contest
Tokens Per Referral Leaderboard Contest
Total GiveAway 250,000 EUCX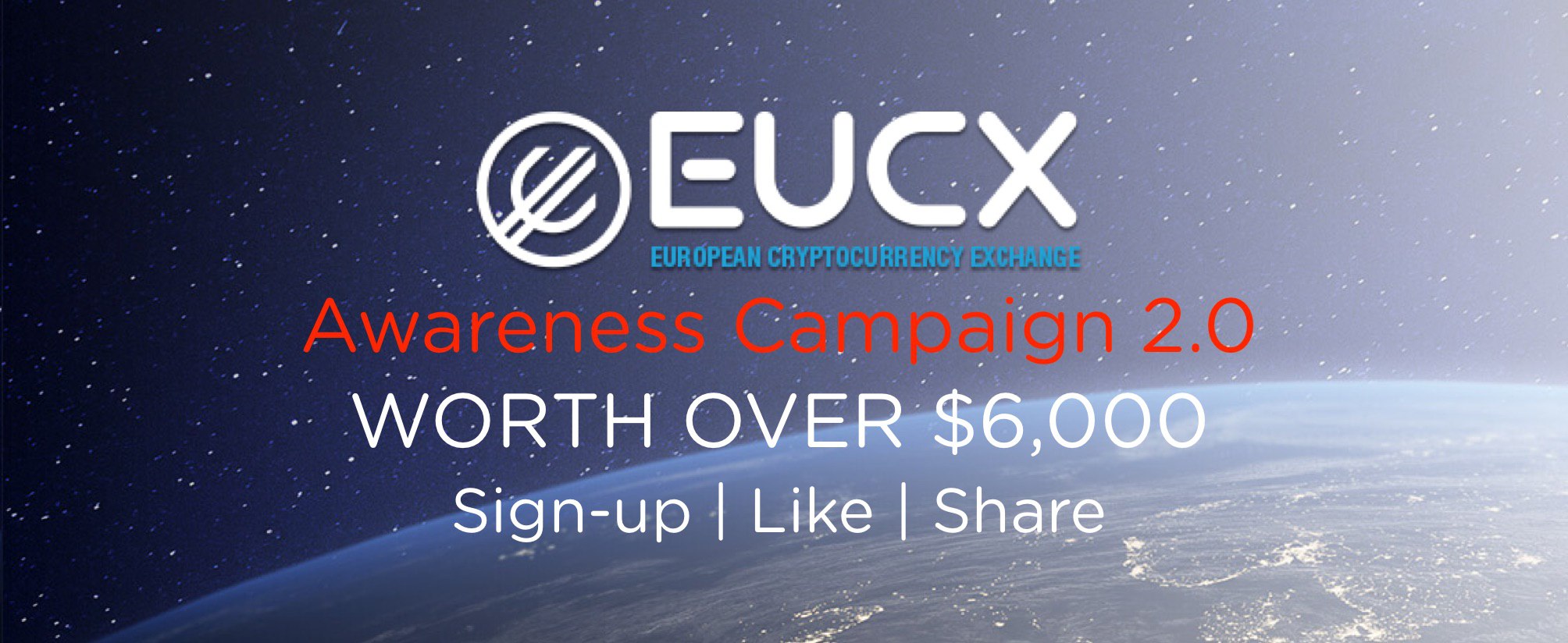 Native blockchain
Step-by-Step Guide EUCX Airdrop Awareness Campaign
Sign up to the EUCX Airdrop page.
Submit your ETH wallet address for 100 entries.
Complete different tasks to earn up to 7050 entries.
Refer friends to earn 50 entries for every referral.
If you like the EUCX Airdrop Awareness Campaign, don't forget to upvote and comment below.
Estimated value
~$ 6500 in Total
Additional ICO information
ICO price 1 EUCX = 0.03 EUR
ICO Start Date 1 July 2019
Soft Cap 1,125,000 EUR
Total Supply 1.000.000.000 EUCX
Platform Ethereum
Headquarters Eindhoven, North Brabant
EUCX Video