Caution
Verified
Evmos ($EVMOS) Airdrop
Evmos has launched 🚀🚀🚀 and you can claim $EVMOS tokens to start staking and interacting with ÐApps deployed on April 29th, 2022 at 16:00:00 UTC.
The Evmos Rektdrop is the genesis Airdrop for Evmos. It provides early liquidity in the form of EVMOS tokens to those who supported them in the long term and are feeling the pain of the market dip (Osmosis and Cosmos Hub users) but it also gives reparations to the victims who got rekt or been a victim of Rug Pull projects. For EVM users, the Airdrop is a GasDrop, which is proportional to the gas used on eligible applications.
The snapshot for the Rektdrop was taken November 25th, 2021 at 19:00 UTC and a whopping 100 million $EVMOS tokens have been airdropped to 2 million eligible recipients.
About Evmos

Evmos is a scalable and interoperable Ethereum, built on Proof-of-Stake with fast finality bringing the world of Ethereum-based applications and assets to the interoperable networks of the Cosmos ecosystem, all while aligning developer and user incentives.
How to join the Evmos Airdrop?
Rektdrop Deadline Deadline starts after 40 days, then claimable amount reduces slowly until zero
Requirements to earn free crypto coins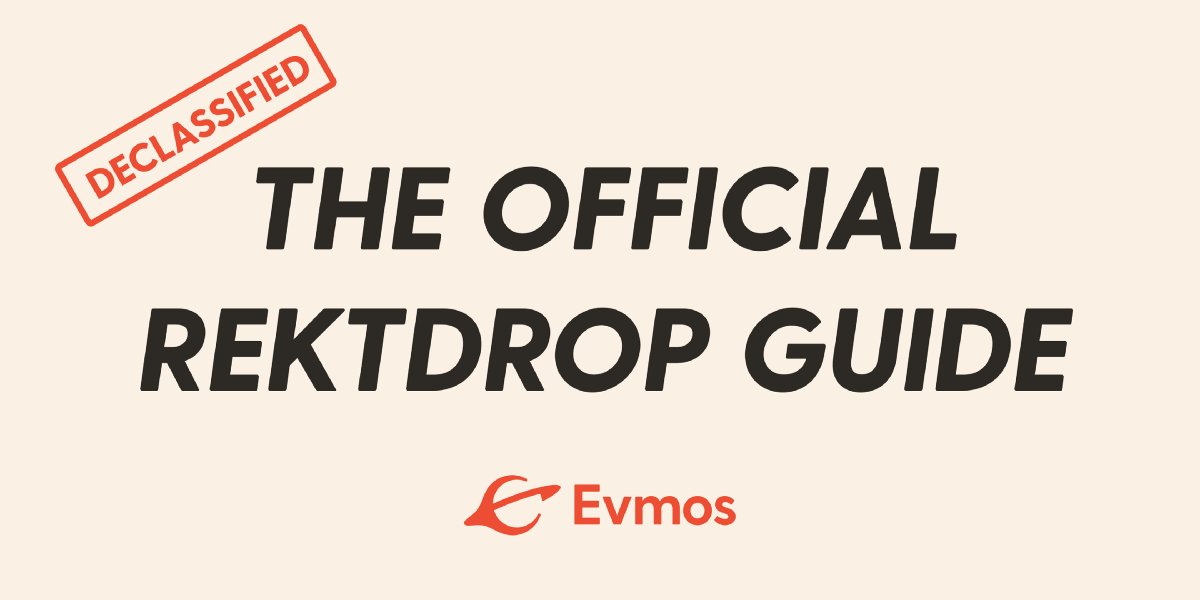 Native blockchain
Step-by-Step Guide ''Evmos Rektdrop''
Visit the official Evmos Rektdrop Dashboard to claim your $EVMOS tokens based on your activity on Ethereum or Cosmos/Osmosis, respectively (Interactive Guide). The Dashboard allows you to connect your Metamask wallet (Video Guide), check if your account is eligible for claiming the Rektdrop and perform the claiming actions. Make sure it is connected to Evmos by adding the Evmos mainnet on chainlist.org. Here is a step-by-step guide on how to claim your $EVMOS tokens from the Evmos Rektdrop.
To claim your Rektdrop, you will have to perform four claiming actions (in the form of transactions) on the Evmos blockchain. Each action will reward you with 25% of your total claimable Evmos tokens and an opportunity to learn about what you can do on Evmos. These four actions are:
▪️ Get involved with the Evmos community by voting on a governance proposal
▪️ Provide security by staking (aka. delegating) your $EVMOS tokens to a Validator
▪️ Execute a cross-chain transfer between Evmos and Osmosis/Cosmos Hub
▪️ Interact with decentralized applications (ÐApps) deployed on the Evmos EVM

** Note: This Rektdrop is labelled with the ''Unverified'' label because the team info is limited & Smart contracts have not been audited yet!


Like and share the Evmos Rektdrop on your favourite SM!
When using decentralized applications (ÐApps), it's critical to remember that YOU are responsible for the security of your digital assets!
Disclaimer: Investors should take the time to research any given product before they invest their funds (DYOR).
Estimated value
n/a
Evmos - Unofficial Video review