Verified
Experty x Ethereum Fork (WIS, DAI and ETH) Airdrop
Experty has launched a CryptoPuzzle Airdrop event to celebrate the Ethereum London Hard Fork EIP-1559. Find a private key and collect 10,000 $WIS! If you find it and prove you've control of it, you will receive an additional 1 ETH!
In addition, you can take part in the pool of 50,000 $WIS and get the opportunity to become one of 10 people who get an additional $100 in $DAI!

About Experty
Experty.io is the first Ethereum powered voice application that allows users to monetize their time, knowledge, and expertise on a global scale. The Ethereum blockchain allows for automatic payments from client to contractor based on the predetermined rate and the length of the conversation. Experts on any subject can share a link to their Experty profile on any platform they see fit, including but not limited to, social media, websites, and emails. There is no central marketplace.
How to join the Experty x Ethereum Fork Airdrop?
Requirements to earn free crypto coins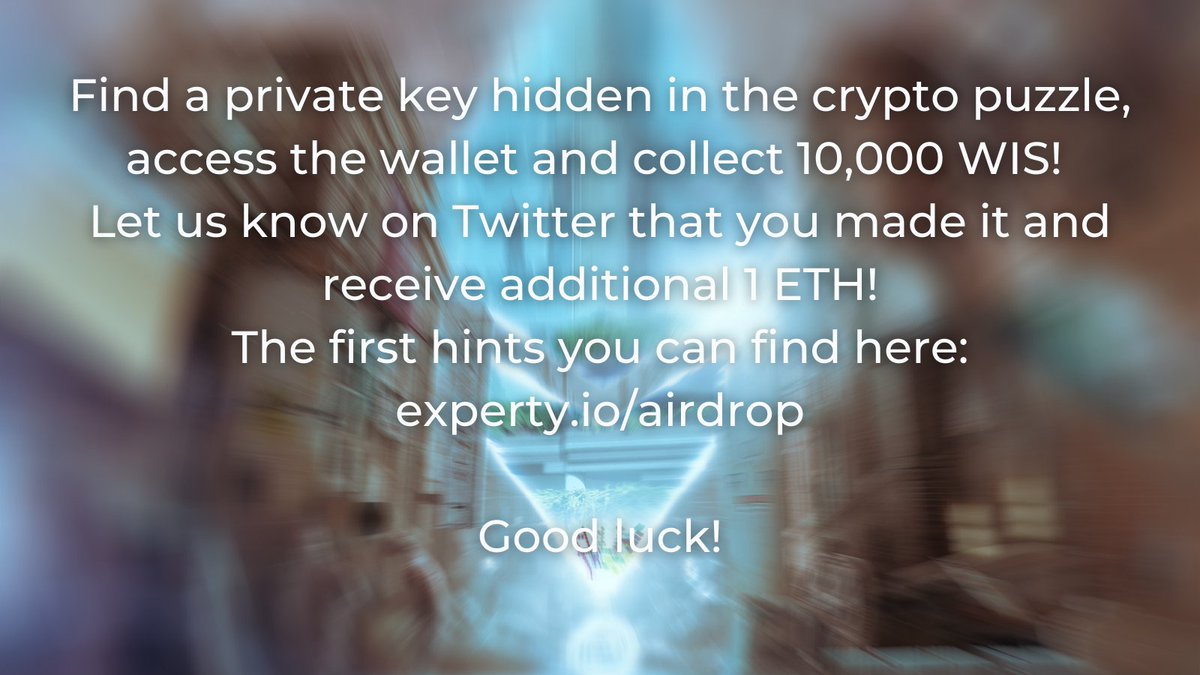 Native blockchain
Step-by-Step Guide ''Experty Airdrop''
Go to the Experty Airdrop page.
Login or Register to Experty.io.
Find a Puzzle banner and click on it to access the Puzzle.
[Optional] Try to solve it - there's over $2,700 in crypto for the Winner. 😉
Find an Airdrop section in the Menu & Tell other people in online communities about the CryptoPuzzle, and attach a link to the Airdrop Guideline and get rewarded with $WIS for every accepted proof.
Take a screenshot and upload your proof & Attach the direct link to your post. You can upload as many proofs as you want.
Take a part in the pool of 50,000 $WIS. Every proof is rated manually, the rating depends on its quality and relevance.
As the countdown ends and all proofs are rated, the pool will be divided among all proofs according to their ratings. 10 people with the most points gathered are rewarded with an extra $100 in $DAI each.
After the verification, you receive the summary of all proofs by email. All the $WIS tokens earned will be added to your Experty balance.

Join Experty.io and receive relevant messages from founders, executives, and researchers interested in DeFi. Connect with companies that respect your time.
If you like the Experty Airdrop, don't forget to like and comment below! Have fun and Win 10,000 $WIS and 1 $ETH.



Disclaimer: Investors should take the time to research any given product before they invest their funds.
Estimated value
n/a
EIP-1559, London Hard Fork - Video