Verified
Fountain FM ($BTC) Airdrop
Fountain FM is the podcast app that pays. Listen, learn, and earn $BTC for the Value for Value you bring to the platform. Powered by the Lightning Network.
Every minute that you spend consuming content, creating content, or watching ads, increases the value of the platform you're using. Think about the ones you use every day! Youtube, Twitter, Facebook, Instagram, TikTok - all of these platforms would lose their value without the time and attention that you give them, but none of them rewards you for it.
Fountain FM is different, is the only podcast app where both listeners and podcasters get rewarded for the value they bring to the platform.
How to join the Fountain FM Airdrop?
Requirements to earn free crypto coins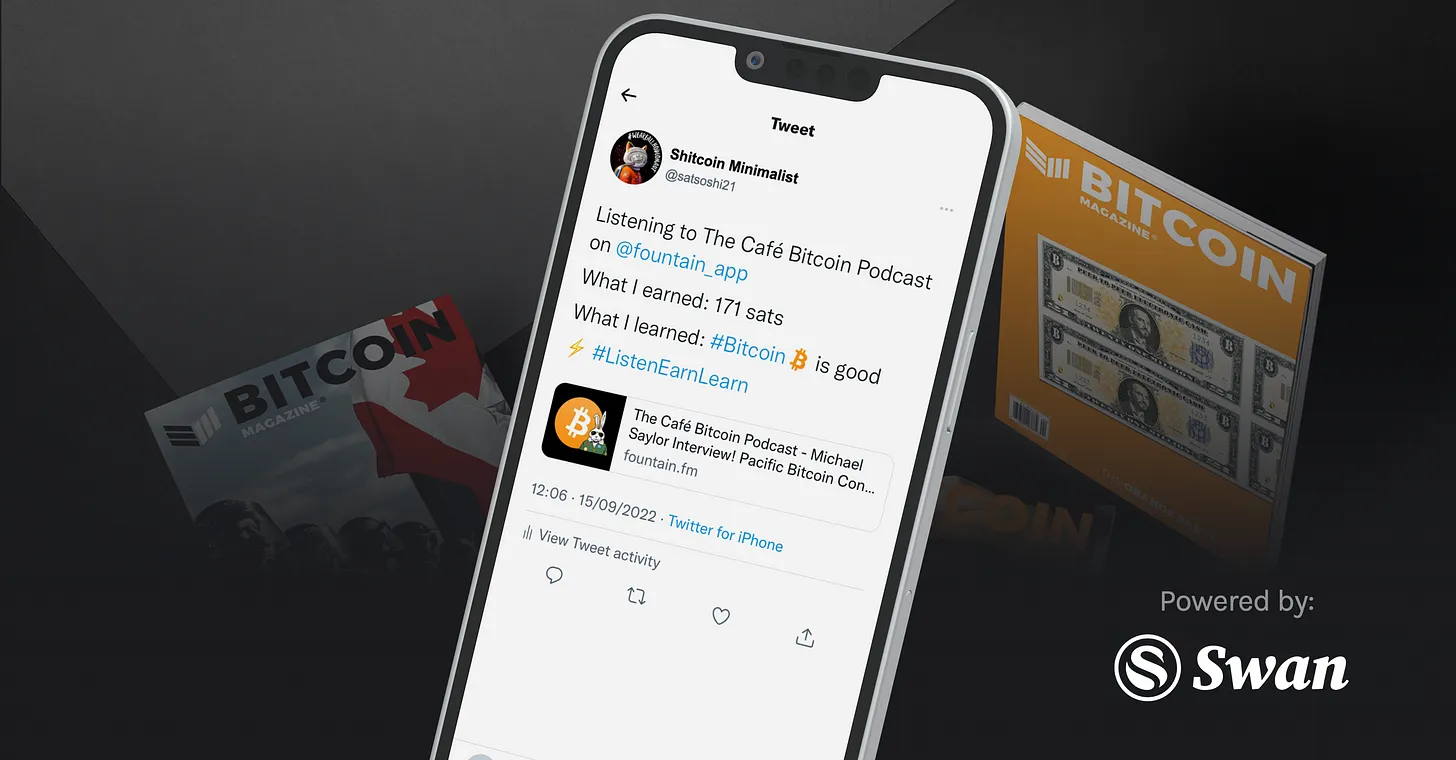 Native blockchain
Step-by-Step Guide ''Earning on Fountain FM''
On Fountain.FM, you earn small units of Bitcoin called Satoshi. There are 100 million $Sats in one Bitcoin. When you earn $Sats they will be added to your wallet balance:
Download the Fountain app on iOS or Android & Create an account. Redeem the code to earn more!
"Listen to podcasts": Get paid by Fountain for your first hour of daily podcast listening. The earning rate changes every day and it's completely random.
"Listen to Promotions": Get paid by podcasters and advertisers for listening to their promoted content. The earning rate is set by the promoter. You will see one promoted episode and one promoted clip on the Home page every day.
"Clips, Likes and Comments": Get paid by other listeners when they like your clips or comments. The default amount for likes can be configured in the settings and you can press the like button as many times as you want.
Earn more and help your favourite shows get discovered by sharing the most valuable highlights from podcasts. You can also earn by referring friends to Fountain (Learn More).
Follow @Fountain_app on Twitter & Subscribe to the Newsletter.

▪️ Fountain.FM partnered with Swan Bitcoin to give away a stack of Bitcoin Magazine issues to three Fountain listeners every Friday. All you need to do is share what you listened to, what you earned and what you learned on Twitter (More info here).
▪️ Win up to 1,000,000 $Sats in the Fountain Satsgiving prize draw on Twitter.
* Click on the earnings meter at the top of the player to check your earning rate today. The rate is affected by your playback speed. For example, if your daily rate is 10 $Sats per minute, you will earn 10 $Sats if you are listening on 1x speed. If you increase your playback speed to 2x, you will earn 5 $Sats per minute. Good Luck!

When using decentralized applications (ÐApps), it's critical to remember that YOU are responsible for the security of your digital assets!
Disclaimer: This content is not intended to be financial advice. Investors should take the time to research any given product before they invest their funds (DYOR).
Estimated value
up to 10 $Sats per minute for your first hour of daily podcast listening Every Day and more...
Fountain App - Overview Video