Closed
Unverified
GoldenDog (GDOG) Airdrop
It looks like you are too late! This airdrop is closed
Looking for new airdrops?
Visit our Featured & New Airdrops pages.
GoldenDog Airdrop is worth $20 of GDOG tokens for 200 lucky winners each.
In addition, 31 lucky winners will share a prize pool worth $11,000 of GDOG tokens, distributed as below:
First Prize: $2,000 - Second Prize: $500 (Ten Winners) - Third Prize: $200 (Twenty Winners)

About GoldenDog

GoldenDog comes as an experiment that can become a way of living. The philosophy and the use are both very simple - Money for the Free People! Make payments, transfers, donations, worldwide, borderless, descentralized!
GoldenDog has minted 100 GDOG tokens for each person in the world, a total number of 786,520,721,400 GDOG tokens. Every year on the 3rd of January (The Bitcoin Day), they will burn or mint tokens to have the total supply updated.
How to join the GoldenDog Airdrop?
Total Airdrop Allocation 3.750.000.000 GDOG
KYC KYC is not a requirement
Airdrop End Date 30 June, 2021
Requirements to earn free crypto coins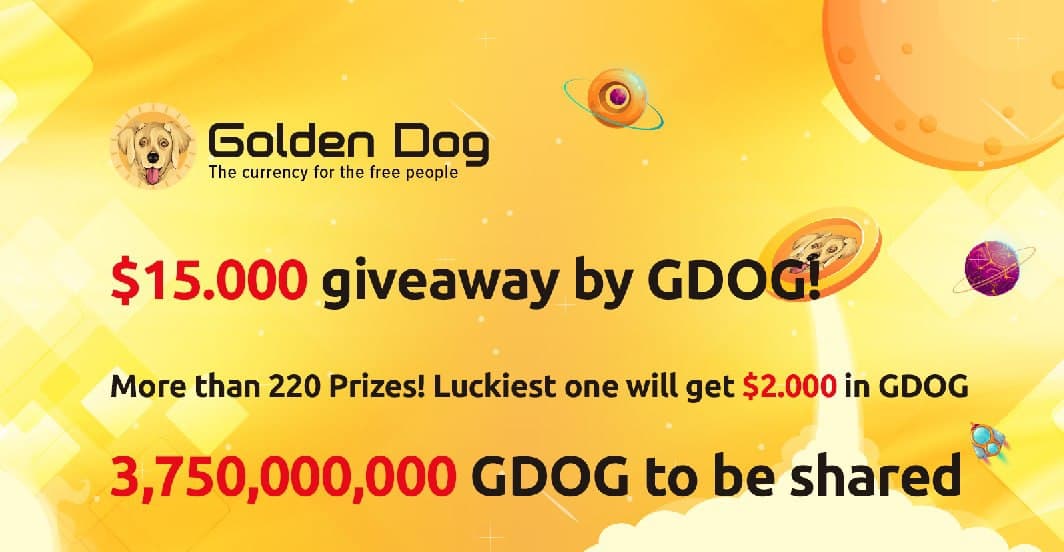 Native blockchain
Step-by-Step Guide ''GoldenDog Airdrop''
Log in to the GoldenDog Airdrop page.
Join GoldenDog on Telegram.
Follow GoldenDogToken on Twitter.
Follow GoldenDogToken on Medium.
Submit your Ethereum wallet address and details to the Airdrop page.
Share your referral link to get extra entries.
Winners will be chosen at random. Rewards will be paid 15 days after GDOG Token Sale ends.
If you like the GoldenDog Airdrop, don't forget to like and comment below!


Disclaimer: Investors should take the time to research any given product before they invest their funds.
Estimated value
~$ 15,000 in Total
Additional ICO information
Total Supply 786,520,721,400 GDOG
Blockchain Ethereum
Markets TBA