Verified
HolyGrail Markets ($USDT) Airdrop
HolyGrail Markets Giveaway prize pool is worth 400 $USDT tokens for 10 random lucky winners to celebrate the HolyGrail markets launch.

About HolyGrail Markets

HolyGrail Markets is the ultimate DeFi options trading platform that offers AMM lending, Binary options trading, DAO index investing, and AMM gamification capabilities - all in a single protocol, powered by Solana.
HolyGrail Markets allows you to trade binary options with zero commission fees, simply by staking into the Investable AMM program. When you stake HGMA tokens you get double the rewards of a regular staking program. This means extra binary options, additional HGMA tokens, and lottery rewards - every day.
When you stake into Investable AMM you get $HGMA tokens in addition to $HLP tokens. You can then stake HLP tokens into binary options for selected DeFi outcomes, with top forecasters winning weekly USD Coin prizes. You can also Invest In DAO Index Funds With HGMA Tokens.
How to join the HolyGrail Markets Airdrop?
Total Prize Pool 400 $USDT
Winners 10 Lucky Random Winners
Giveaway End Date 25 April 2022
Requirements to earn free crypto coins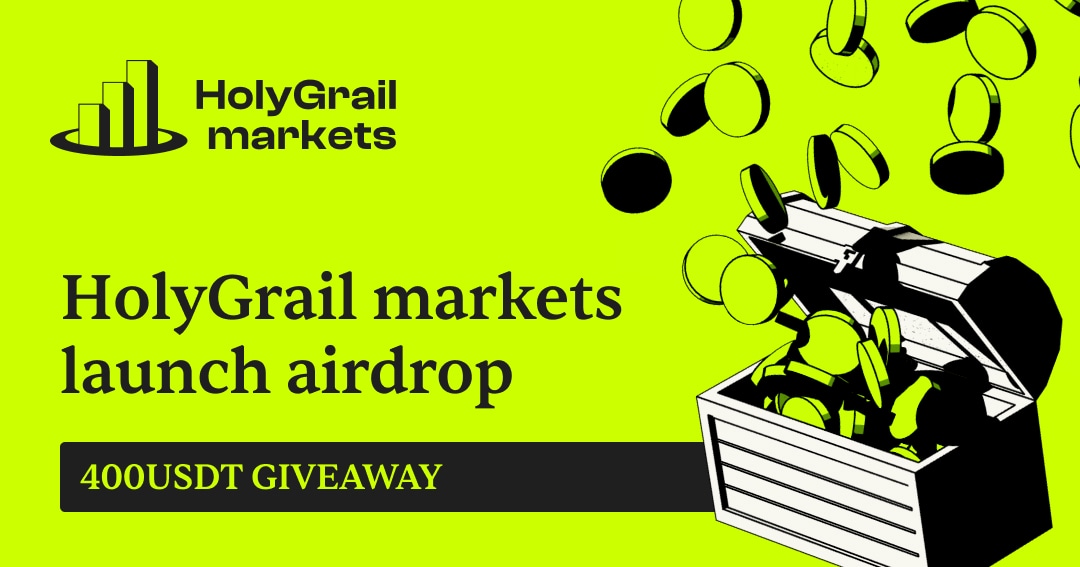 Native blockchain
Step-by-Step Guide ''HolyGrail Markets Giveaway''
Login to the HolyGrail Markets Giveaway page.
Follow @HolyMarkets on Twitter & Retweet the Giveaway Announcement Tweet.
Follow HolyGrail Markets on Medium.
Sign up for the Newsletter.

▪️ 10 lucky winners will be randomly chosen to get 400 $USDT. Good Luck!

Like and share the HolyGrail Markets Giveaway on your favourite SM!
When using decentralized applications (ÐApps), it's critical to remember that YOU are responsible for the security of your digital assets!
Disclaimer: Investors should take the time to research any given product before they invest their funds (DYOR).
Estimated value
~$ 400 Prize Pool