Closed
Unverified
Hugeswap (HUSWAP) Airdrop
It looks like you are too late! This airdrop is closed
Looking for new airdrops?
Visit our Featured & New Airdrops pages.
Hugeswap Airdrop is worth up to 500 HUSWAP tokens (~$ 25). Share your referral link to earn 50 HUSWAP tokens (~$ 2.50) for each referral.

About Hugeswap
Hugeswap brings together trading, network tracking, staking pool, pump alerts and more. It provides a powerful API engine alert system for more than 500+ coins in the best cryptocurrency exchanges. It instantly reports the best offers with real-time notifications via Telegram, email, SMS, or push notifications on your phone.
Hugeswap is able to scan the blockchain and log all transactions and events from a specific or multiple smart-contracts allowing to create and customize powerful alerts based on triggers such as volume increase/decrease, price increase/decrease, percentage change, and more extra coming soon. In this way, it allows you to make a profit by buying at the best price.
How to join the Hugeswap Airdrop?
Tokens Per Airdrop up to 500 HUSWAP
Tokens Per Referral 50 HUSWAP
KYC KYC is not a requirement
Requirements to earn free crypto coins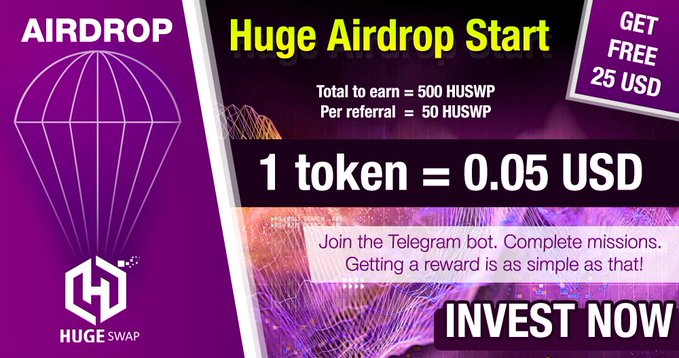 Native blockchain
Step-by-Step Guide Hugeswap Airdrop
Start the Hugeswap Airdrop Telegram Bot.
Follow Hugeswap on Twitter.
Follow Hugeswap on Medium.
Sign up at the Hugeswap website.
Submit your Ethereum wallet address and other details to the Bot.
Share your referral link to earn 50 HUSWAP tokens for each referral.
Note: This airdrop is labelled with ''Unverified'' label because the team info is limited.

If you like the Hugeswap Airdrop, don't forget to upvote and comment below.
Estimated value
~$ 25 + referral
Additional ICO information
ICO Oct 25, 2020 - Nov 15, 2020
Pre-sale token supply 20,000,000 HUSWP
ICO price 1 HUSWP =0.01 USD
Total Supply 75,000,000 HUSWP
Blockchain Standard ERC-20 Based Utility Token
Country Netherlands