Verified
BORA 2.0 ($tBORA) Airdrop
BORA 2.0 is airdropping 155,000 USD worth of $BORA tokens.

About BORA 2.0

BORA 2.0 was created to accommodate a wide range of game, content, and entertainment-specific demands on blockchain technology, and to overcome the existing limitations of BORA 1.0.
BORA 2.0 plans to establish an expanded ecosystem by actively engaging in community communication via various channels. With BORA 2.0 renewal, BORA will realize its vision to become the ecosystem to 'Store, secure and grow your entertainment crypto assets'.
How to join the BORA 2.0 Airdrop?
Airdrop End Date 21 April 2022 (Thu) @ 11:59pm
Results Announcement 22~23 April 2022 (KST)
Rewards Distribution Within 7 days of results announcement
Requirements to earn free crypto coins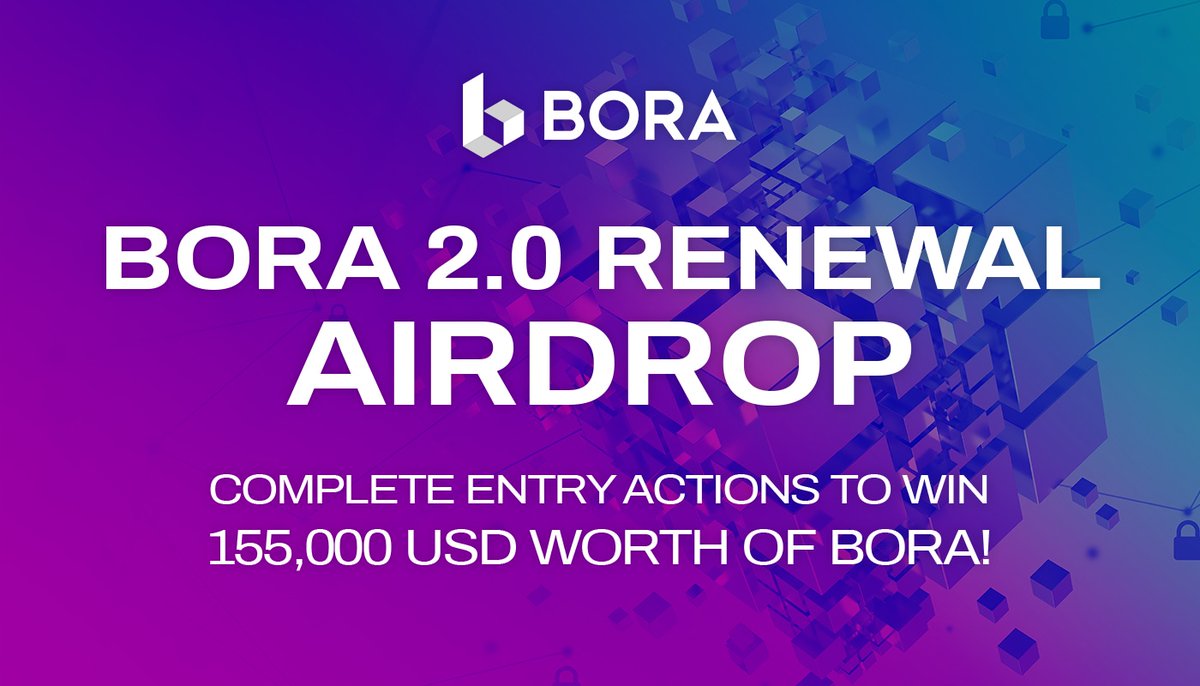 Native blockchain
Step-by-Step Guide ''BORA 2.0 Renewal Airdrop''
Login to the BORA 2.0 Renewal Airdrop page.
Submit your Metamask wallet address.
Follow @BORA_Ecosystem on Twitter.
Follow BORA on Medium
Follow BORA on LinkedIn.
Visit BORA on YouTube.
Share your referral link to earn Extra Entries.

▪️ 50 tBORA for 3,000 participants with 8 or more entry points.
▪️ 1,000 tBORA to TOP 5 referrers with the highest entry points.

** tBORA is a new token introduced in BORA 2.0. tBORA can be swapped to other project tokens to use within each project. tBORA can also be converted into $BORA.

▪️ Enjoy IP based MMORPG, IP based Sports Simulation, Hyper Casual and etc. games to board on BORA!
▪️ Earn NFTs of your favorite webtoon, web novel, influencer, celebrity, and many other creations that will be revealed to the world by BORA! And watch as your entertainment digital assets multiply in value, all on BORA.

Like and share the BORA 2.0 Renewal Airdrop on your favourite SM!
When using decentralized applications (ÐApps), it's critical to remember that YOU are responsible for the security of your digital assets!
Disclaimer: Investors should take the time to research any given product before they invest their funds (DYOR).
Estimated value
~$ 155,000 Prize pool
BORA 2.0 - Video