Unverified
Golden Goose (GOLD) Airdrop
Golden Goose Airdrop by Bittrex Global is worth 100,000 GOLD tokens in total. 500 participants will receive 200 GOLD tokens (~$ 16).
About Golden Goose & Bittrex
Golden Goose is the world's largest cryptocurrency mining centre and global cryptocurrency exchange platform that uses Paraguay's cheap and clean electricity.

Bittrex is one of the world's largest cryptocurrency exchanges, based in Seattle. It's a secure platform (up until this point, has been free of any reported hacks) with fast deposits and withdrawals. According to its website, Bittrex trading fees are 0.25% on all trades. The majority of Bittrex's coins are kept in cold storage, and since recently you can use fiat funding.
StormGain Airdrop is worth Free 25 USDT tokens plus up to 15% Bonus on first deposit.
How to join the Golden Goose Airdrop?
Tokens Per Airdrop 200 GOLD
Referral program No Referral Program
Airdrop End Date Thursday, February 18, 1:00 UTC
Requirements to earn free crypto coins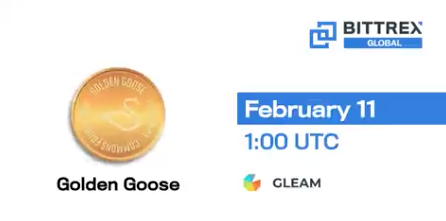 Native blockchain
Step-by-Step Guide ''Golden Goose Airdrop''
Visit the Golden Goose Airdrop page.
Perform different tasks and earn entries.
Submit your Ethereum wallet address.
500 participants will receive 200 GOLD tokens (~$ 16).
The rewards will be distributed to your Bittrex account after the event ends.
Note: We labelled this airdrop with ''Unverified'' label due to the limited public information on Golden Goose Team & Company.
Disclaimer: Investors should take the time to research any given product before they invest their funds.

If you like the Golden Goose Airdrop, don't forget to upvote and comment below. ''Buy Bitcoin with Credit Card''
Estimated value
~$ 16
Additional ICO information
Maximum Supply 500,000,000 GOLD
Blockchain Standard ERC-20 based Utility Token
Markets Bittrex Global & Bithumb Global