Verified
Profit on Weed ($GGT + Cannabis NFTs)
Profit on Weed Airdrop is giving away the largest Cannabis NFT prize fund ever! With $12,000 up for grabs, 100 winners will share a pool of 50,000 $GGT tokens (~$ 10,000), while 10 participants with the most referrals will each receive Cannabis-NFTs worth $200. Join the Profit on Weed community now and enter for your chance to win.

About Profit on Weed

Profit on Weed is a pioneering project that aims to make the unique natural properties of cannabis available to everyone, improving people's lives through responsible leadership, positive public opinion, and innovative product development. Their vision is for a future where cannabis is widely recognized and accepted for its therapeutic and recreational benefits, integrated into mainstream health and wellness practices, and accessible to people in a safe and responsible manner.
The project stands out for its commitment to creating a commercial cluster that generates benefits for the community and society as a whole, including job creation, tax revenue generation, medical accessibility, legalization, and reduction of black market crime. With a clear understanding of strategic goals and a well-planned economic plan, Profit on Weed is already taking consistent steps towards achieving its mission.
$GGT token is the backbone of the Profit on Weed ecosystem, enabling access to profitable cannabis production and serving as the only internal payment unit for all products and services on the platform.
How to join the Profit on Weed ?
Prize Pool 50.000 $GGT & 10 Cannabis NFTs
End Date 25 February, 2023 @ 12:00 am
Requirements to earn free crypto coins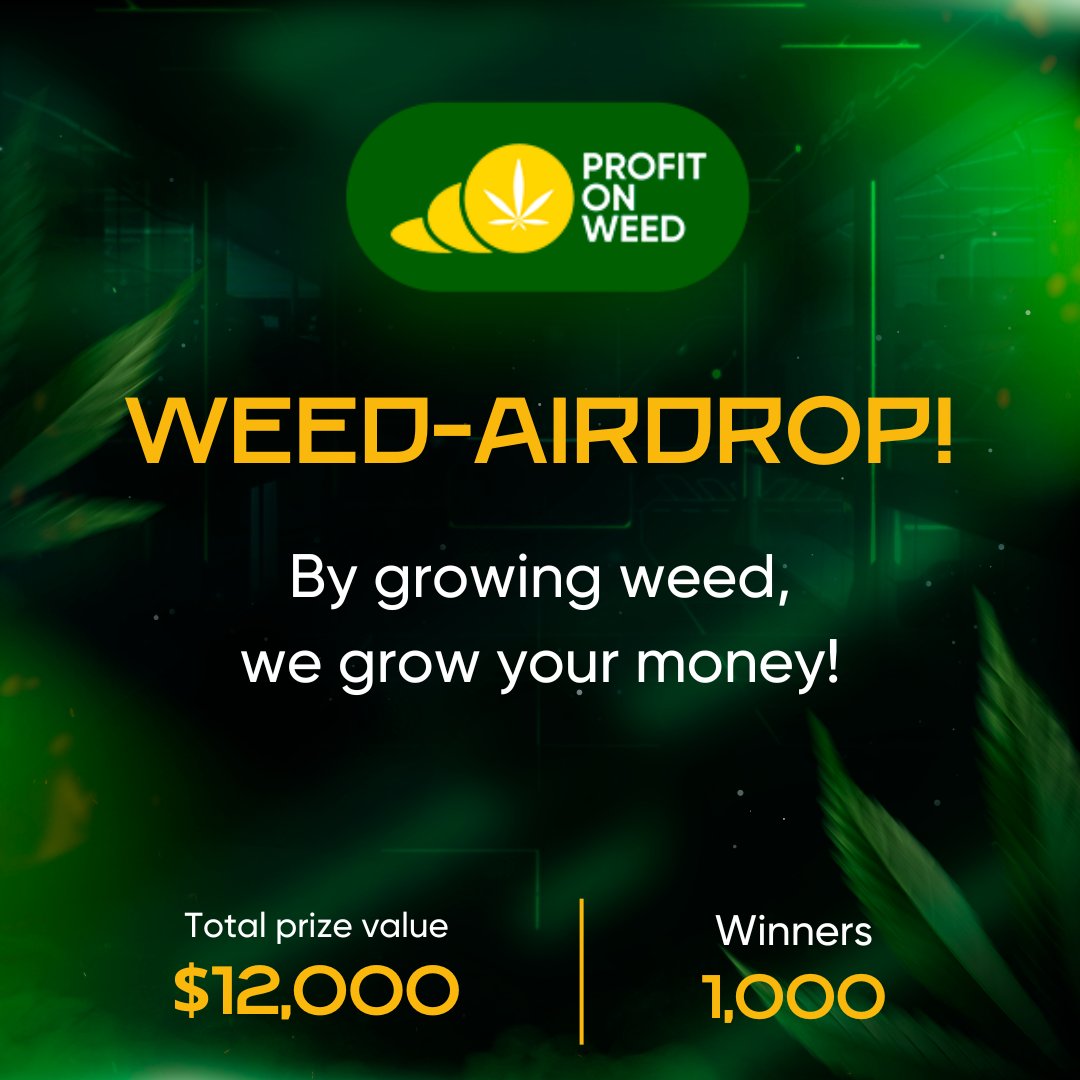 Native blockchain
Step-by-Step Guide ''Profit on Weed Airdrop''
Login to the Profit on Weed Airdrop SweepWidget page.
Register on the Profit on Weed website.
Join Profit on Weed on Discord, and leave a comment.
Follow @ProfitonWeed_en on Twitter & Like 5 posts.
Like and retweet a pinned Tweet @tagging 3 friends.
Answer 4 questions about Profit on Weed & Enter your Metamask wallet address.

▪️ Profit on Weed is a Thailand-based Cannabis campaign with 4,600 planting spots. Each spot corresponds to a Cannabis NFT, which provides a portion of the corresponding plant's income. Using $GGT, participants can purchase a Cannabis-NFT with a yield of up to 120% per annum in $USDT.
When using decentralized applications (ÐApps), it's critical to remember that YOU are responsible for the security of your digital assets!
Disclaimer: Investors should thoroughly examine any given product before they deposit or invest their funds!
Estimated value
~$ 12,000 Prize Pool
Additional ICO information
Total Supply 10,000,000 $GGT
Blockchain Polygon
Markets Private & Public sale