Closed
Sponsored
QuikYield ($QYU) Airdrop
It looks like you are too late! This airdrop is closed
Looking for new airdrops?
Visit our Featured & New Airdrops pages.
QuikYield Airdrop prize pool is worth 100,000,000 $QYU tokens (~$ 42,000,000) to be airdropped as a reward for the community.

About QuikYield

QuikYield is a Decentralized Yield Farming project consisting of multiple products like QLiquidity, QSwap, QBridge, QPay and QWallet on multiple blockchains including Ethereum, Binance Smart Chain, Polygon, Huobi ECO Chain, Avalanche and xDai.
$QYU token is already tradable on PancakeSwap & SushiSwap.

How to join the QuikYield Airdrop?
Total Airdrop Allocation 100,000,000 $QYU
KYC KYC is NOT a requirement
Airdrop End Date 24 October, 2021
Requirements to earn free crypto coins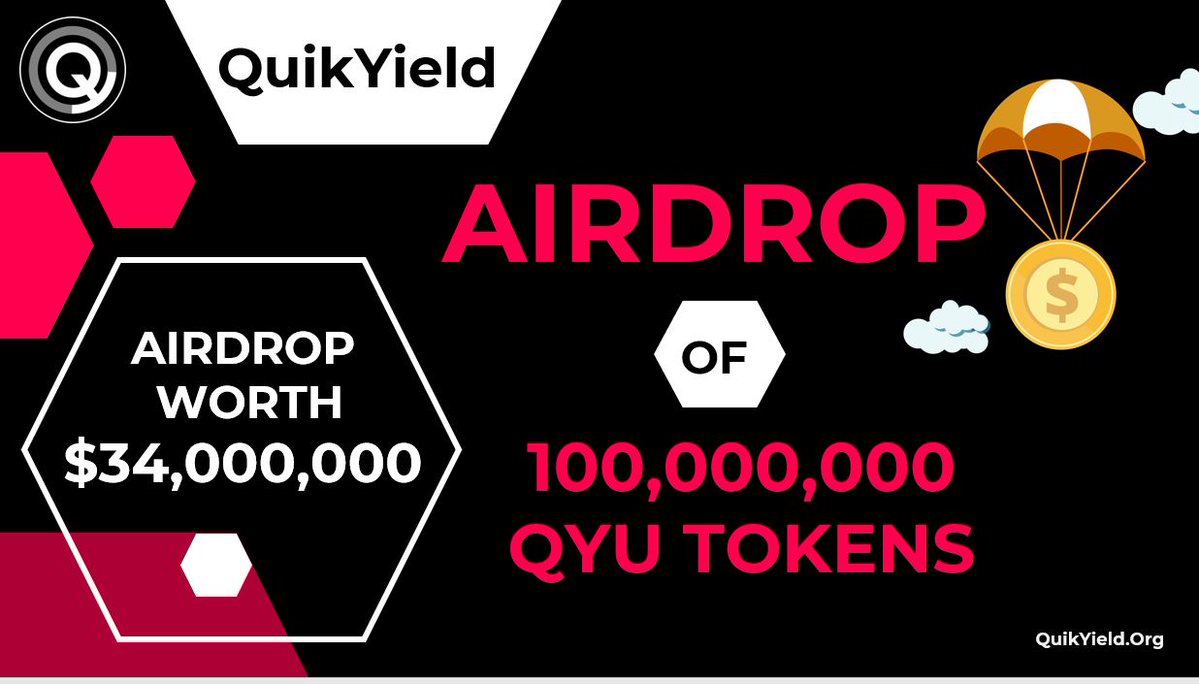 Native blockchain
Step-by-Step Guide ''QuikYield Airdrop''
Register for the QuikYield Airdrop, by creating an account.
Verify your mail, Log in to your account.
Join QuikYield on Telegram. $20 worth QYU Tokens
Follow @QuikYield on Twitter. $20 worth QYU Tokens
Like & Retweet the QYU Airdrop Tweet. $20 worth QYU Tokens
Share Airdrop & @Tag 10 Friends. $20 Worth QYU Tokens
Follow QuikYield on Medium. $20 worth QYU Tokens
Write Blog Articles on QuikYield. Up to $200 Per Article
Make a YouTube Video Review on QuikYield. Up to $5000 Per Video
Submit your Ethereum wallet address and details to the QYU Airdrop page.
Eligible hodlers of QuikYield may be eligible to receive free, automatic distributions of digital assets.
Don't forget to like and comment below if you joined the QuikYield Airdrop!
Disclaimer: Investors should take the time to research any given product before they invest their funds (DYOR). "Buy Bitcoin with Credit Card"
Estimated value
~$ 42,000,000 prize pool