Caution
Verified
VirtuSwap ($VRSW) Airdrop
VirtuSwap is excited to announce the INITIUM Airdrop with a prize pool of up to 10,000,000 $VRSW tokens. Eligible participants include wallets that performed indirect trades or LP deposits in qualified Ethereum and Polygon pools between May 1, 2022, and May 1, 2023.
Hurry! The Airdrop will run until the cap is reached, with decreasing rewards as the distribution progresses. Seize your well-deserved rewards for your past trading activities!

About VirtuSwap

VirtuSwap is revolutionizing DEXes by introducing advanced financial engineering and cutting-edge technology. Their mission is to dominate the crypto trading landscape by offering efficient trades and maximizing liquidity provider yields. They eliminate inefficiencies with "Reserve Powered Pools" and employ an AI Optimizer system.
$VRSW is VirtuSwap's core token, it incentivizes value creation, staking, and liquidity boosting. Stakers of VRSW receive gVRSW, which grants voting power.
How to join the VirtuSwap Airdrop?
Airdrop Prize Pool 10,000,000 $VRSW
Tokens per Eligible Wallet Up to 4,000 $VRSW
Deadline 5th June or until the cap has been reached
Requirements to earn free crypto coins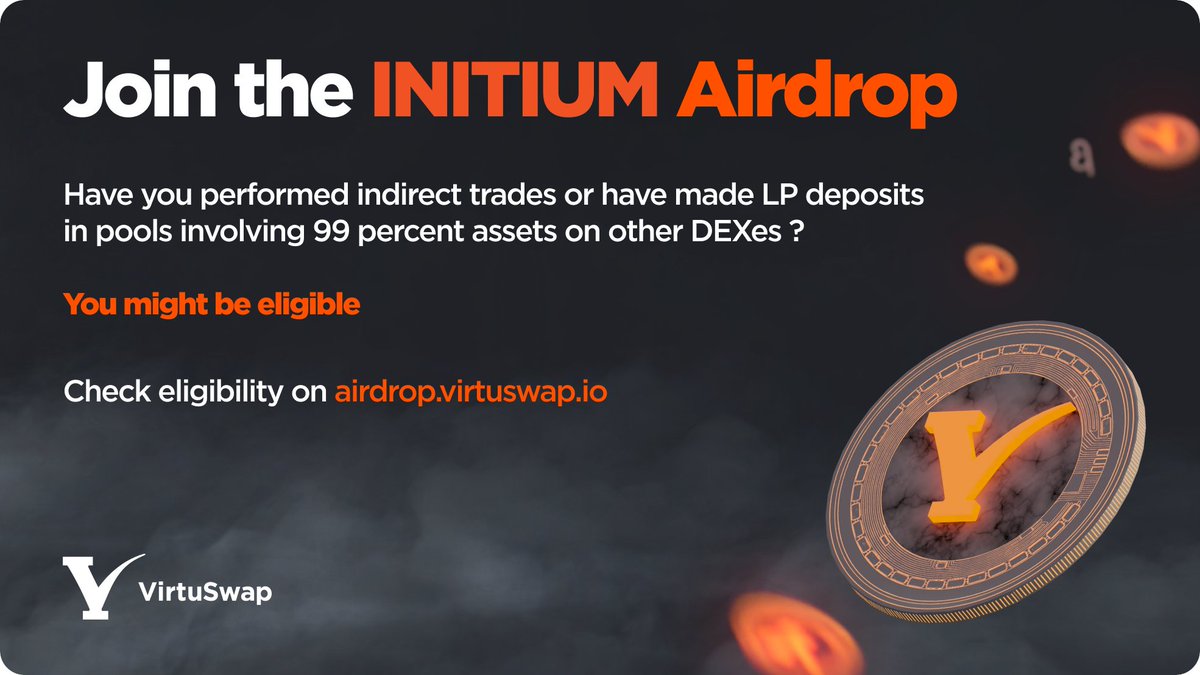 Native blockchain
Step-by-Step Guide ''VirtuSwap INITIUM Airdrop''
Wallets that performed indirect trades in qualified tokens and/or LP deposits in qualified pools between May 1, 2022, and May 1, 2023, are eligible for rewards:
Head over to the VirtuSwap INITIUM Airdrop page & Connect your Metamask wallet.
If eligible, you will see the list of your transactions eligible for the Airdrop and the corresponding rewards.
You can claim up to 4,000 $VRSW tokens in rewards on the Polygon network. Learn more about Qualified Trades & LP Deposits for further details.

▪️ The Airdrop lasts 14 days from May 22nd or until the reward cap is reached. Rewards decrease by 20% for every 2,000,000 $VRSW distributed. Good luck!

When using decentralized applications (ÐApps), it's critical to remember that YOU are responsible for the security of your digital assets!
Disclaimer: This content is not intended to be financial advice. Investors should take the time to research any given product before depositing or investing their funds.
Estimated value
N/A
Additional ICO information
Max Supply 1,000,000,000 $VRSW
Blockhains Polygon (Initially)...
Markets TBA
What is VirtuSwap? - Video