Verified
XBANKING ($XB) Airdrop
Join the XBANKING Airdrop and become a part of a revolutionary new banking experience. 100 lucky participants have the chance to win a share of 20,000 $XB tokens, valued at approximately $10,000. Don't miss this opportunity to be a part of something big in the future of finance. Best of luck!

About XBANKING

XBANKING is a cutting-edge platform that revolutionizes the way people invest in the crypto space, offering the most profitable APR on the market. XBANKING utilizes the Proof of Stake (PoS) mechanism to maintain trusted nodes in blockchains, providing attractive returns already to over 25,000 satisfied users.
With over $200 million in digital assets hosted, XBANKING guarantees the safety of users' staked assets through its Staking Insurance Fund, which offers full coverage of all user assets at a 1:1 ratio with Proof of reserves. The platform also employs state-of-the-art security measures to protect against both cyber and physical attacks, ensuring the complete safety of users' assets.
How to join the XBANKING Airdrop?
Deadline 28 February 2023
Airdrop Distribution 1st March 2023
Requirements to earn free crypto coins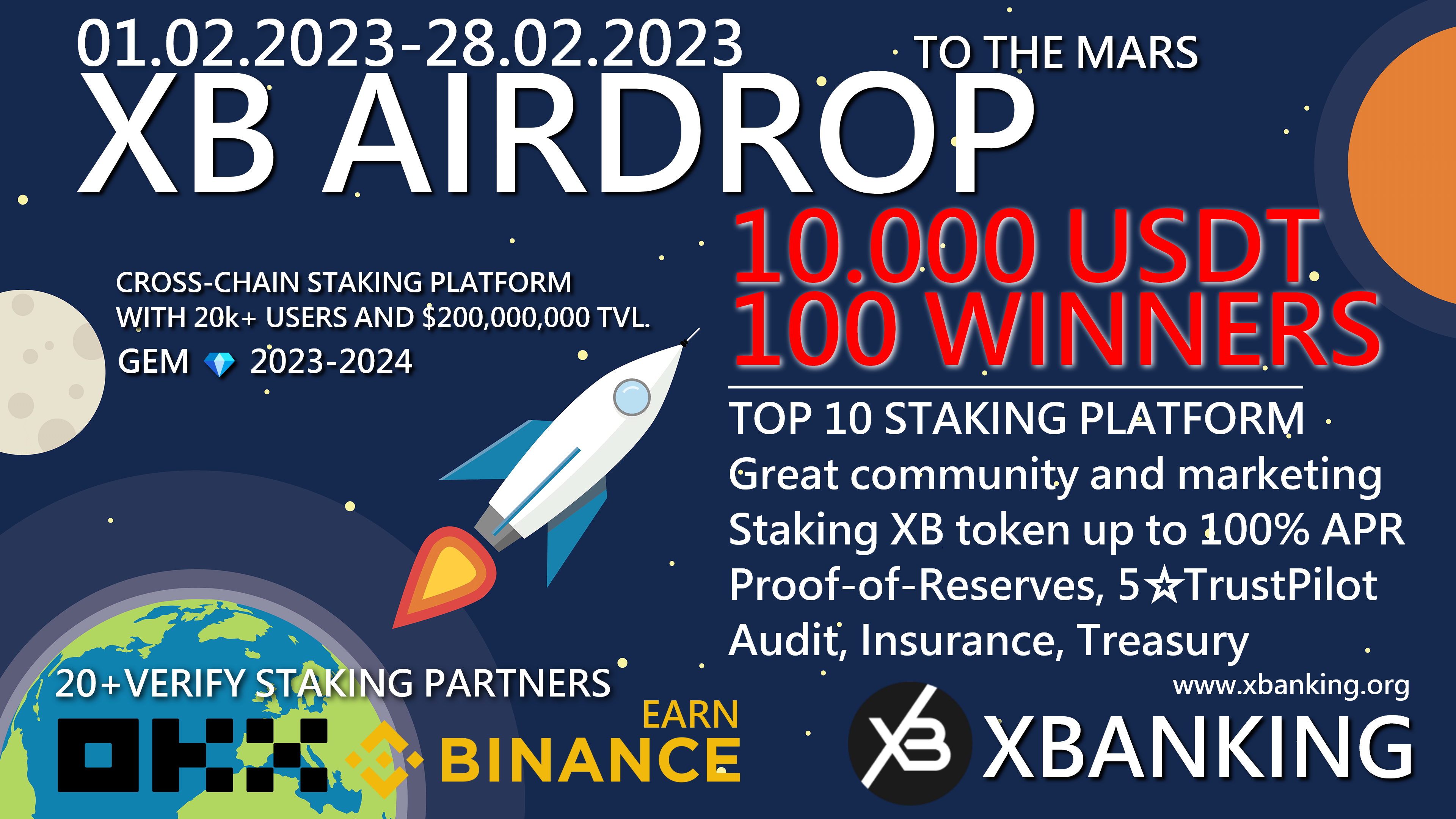 Native blockchain
Step-by-Step Guide ''XBANKING Airdrop''
Go to the XBANKING Airdrop form.
Follow XBANKING on Twitter.
Like + Retweet the Airdrop Tweet & tag 3 friends.
Submit your ERC-20 wallet address and information in the XBANKING Airdrop form.

▪️ 100 lucky winners will share the prize pool worth 20,000 $XB tokens (~$ 10,000). Good Luck!

When using decentralized applications (ÐApps), it's critical to remember that YOU are responsible for the security of your digital assets!

Disclaimer: Investors should take the time to research any given product before they deposit or invest their funds (DYOR).
Estimated value
~$ 10,000