Featured
Caution
Sponsored
Lotto (LOTTO) Airdrop
Lotto Airdrop is worth up to 2,000 LOTTO tokens (~$ 200). A snapshot was taken on January 18th, 2021 at 6 AM EST of 50 top DeFi projects.

About Lotto
Lotto is the first-ever digital rebase lottery on the Ethereum blockchain that automatically enters all holders into a lottery once per week, every Sunday at 7 PM EST. In one transaction, LOTTO performs a unique rebase that removes 1 LOTTO token from all holders, pools those tokens together, and gives them to one random participant. No action is required from users besides holding LOTTO in their wallet.
Lotto cannot be stopped even by the Lotto team and will continue to run weekly lotteries, which will become daily after migration to Binance Smart Chain.
How to join the Lotto Airdrop?
Total Airdrop Allocation 400,000,000 LOTTO
Snapshot date January 18th, 2021 at 6 AM EST
KYC KYC is not a requirement
Requirements to earn free crypto coins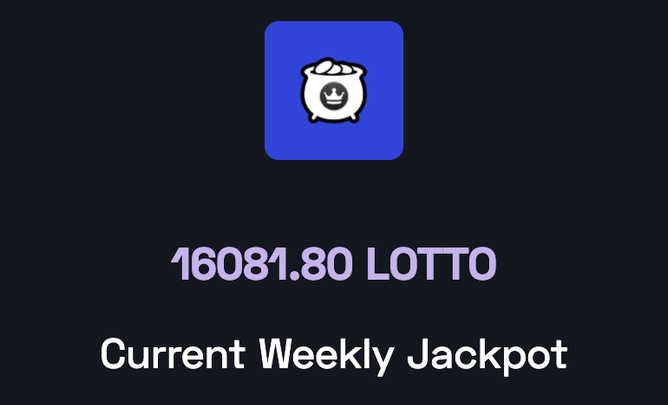 Native blockchain
Step-by-Step Guide ''Lotto Airdrop''
Visit the Lotto Airdrop claim portal.
Connect your Metamask wallet.
If you're eligible, then you will be able to claim 400 LOTTO tokens. The list of projects that are eligible to claim is available here.
If you owned more than 1 UFR on the date of the snapshot, you are eligible for a 5x claim Bonus and can claim 2,000 LOTTO per Upfiring (UFR) address.
Anyone who has ever bought a PoolTogether DAI, UNI, or USDC ticket is eligible to claim 400 LOTTO.
Anyone who has an address that has ever interacted with the PoolTogether V2 contract is eligible to claim 400 LOTTO.
Registrants of the Airdrop via Telegram and 4chan are also eligible to claim 400 LOTTO.
If you like the Lotto Airdrop, don't forget to Like/Comment below.

For more information, please check the Airdrop blog. The Airdrop portal will be open indefinitely, so you can claim anytime.
Estimated value
up to ~$ 200
Additional ICO information
Maximum Supply 2,000,000,000 LOTTO
Blockchain Standard ERC-20 Utility Token
Markets Uniswap & Bilaxy.com