Closed
Verified
Magnum Wallet (Ledger Nano, BTC, KMD, XTZ, CLO) Airdrop
It looks like you are too late! This airdrop is closed
Looking for new airdrops?
Visit our Featured & New Airdrops pages.
Magnum Wallet is running a big giveaway to celebrate having implemented the support of the new Ledger device. Take a chance to win a brand new cold wallet: Ledger Nano X or Nano S. Also, there is an extra bonus of 1,500,000 satoshis for 50 other winners who will be randomly selected.
You have a chance to win one of the following prizes:
1. Ledger Nano X worth ~$ 135.
2. Ledger Nano S worth ~$ 67.
3. Passive income starter pack: 10 KMD tokens (~$ 16), 10 XTZ tokens (~$ 12.70) and 3000 CLO tokens (~$ 9).

Also, you can get guaranteed 10,000 satoshis prize for referring 20+ people that complete the registration.

About Magnum Wallet
Magnum Wallet is light and anonymous web wallet for managing Bitcoin and 1000+ different assets. Having launched in 2018, Magnum is quickly gaining adoption in the crypto space due to the variety of features on offer. Magnum allows to claim a lot of forks and to earn on the POS consensus by staking. As a highly secure tool, Magnum supports hardware wallets such as Ledger and Trezor. The private keys are encrypted and stored in the browser's local storage. By working with Changelly, a popular cryptocurrency exchange platform, users can buy and sell their coins directly from Magnum Wallet Android App, instantly and at low fees.
How to join the Magnum Wallet Airdrop?
Tokens Per Airdrop Winners are randomly selected
Tokens Per Referral 10,000 satoshis for referring 20+ people
Total Airdrop Ledger Nano X + Ledger Nano S + 50 prizes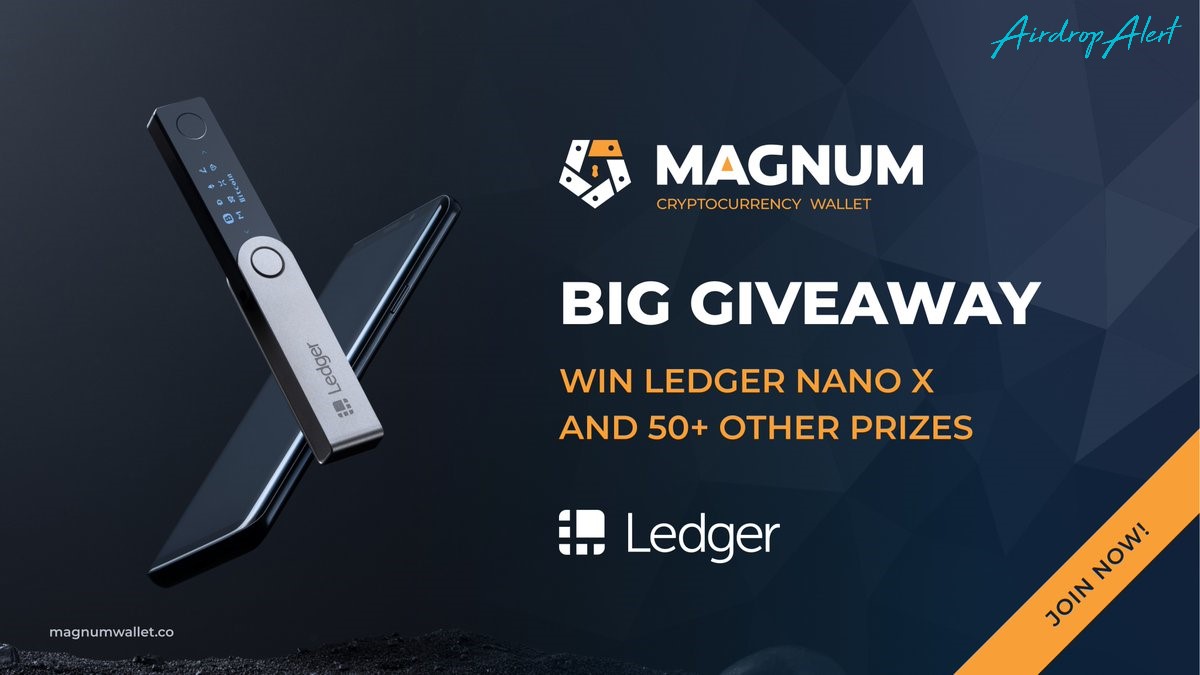 Native blockchain
Step-by-Step Guide Magnum Wallet Airdrop
Go to the Magnum Wallet Airdrop Bot and click on ''Start Airdrop''.
Download the Magnum Wallet App only available for Android, create a wallet and enter your personal registration code given by the airdrop bot into the registration field inside the wallet (Dashboard > Bounty > Magnum x Ledger > Code Registration).
Follow Magnum Wallet on Twitter & make a tweet following the requirements given by the bot.
Submit your Bitcoin Address from the Magnum Wallet bot & other details to the bot.
Share your referral link to get guaranteed 10,000 Satoshis prize for referring 20+ people.

Note: The draw ends on the 30th of June. Results will be announced within 14 days after that final date. The team will contact the winners to ship them the prizes in 48-72h after the results are announced.
If you like the Magnum Wallet Airdrop, don't forget to upvote and comment below.
Estimated value
50+ Prizes
Magnum Wallet Video