Sponsored
Meland ($MELD) Airdrop
Meland Airdrop is worth 140 $MELD tokens to 5,000 randomly chosen lucky winners who have completed all the tasks & Leaderboard Contest with up to 300,000 $MELD tokens.

About Meland

Meland.ai is the world first learn-to-earn decentralized gamification platform where players can challenge quizzes, build, own and monetize their gaming experience using $MELD in the blockchains Ethereum, Binance Smart Chain and Polygon.
Meland.ai wants to build a massive gamified knowledge content platform that allows users to Learn, Create and Play. Each person can create something unique or special for the world.
Meland.ai combines the features of MMORPG games. You can challenge quizzes with friends and families, and go to the official content area to experience the rich and varied adventure activities together.

How to join the Meland Airdrop?
Total Airdrop Allocation 1,000,000 $MELD
KYC KYC is NOT a requirement
Airdrop End Date November 30, 2021
Requirements to earn free crypto coins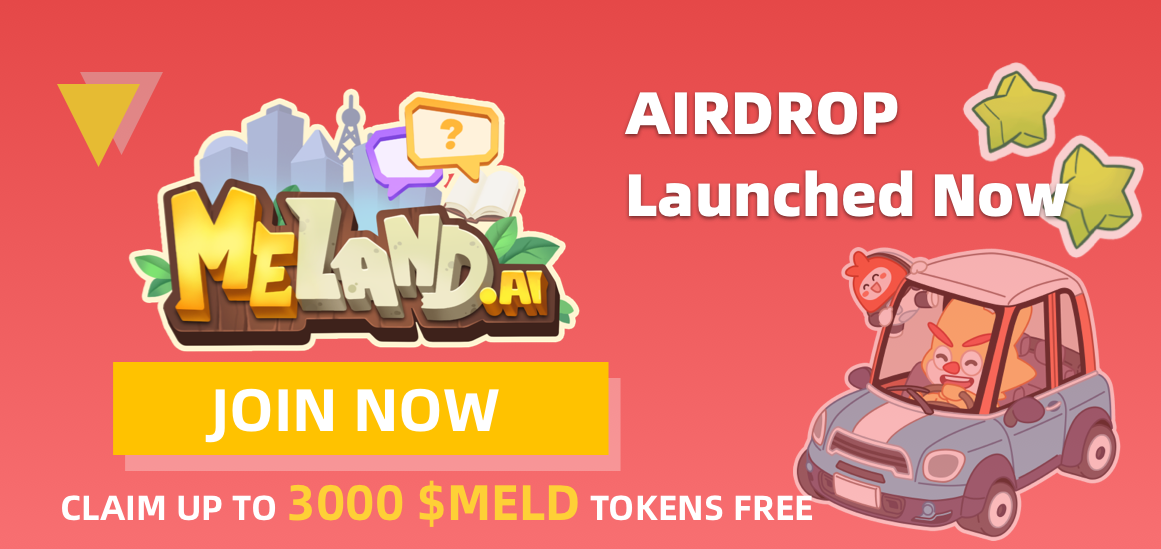 Native blockchain
Step-by-Step Guide ''Meland Airdrop''
Start the Meland Airdrop Telegram Bot.
Follow @Meland_ai on Twitter.
Retweet & Like last 5 (Five) Tweets, with Comment #meland.ai #airdrop_with_meland.ai #Meland #airdrop.
Submit your Ethereum wallet address and details to the Bot.
The winners will all be announced after the presale. All rewards will be distributed directly to participants' ERC20 wallet addresses and will not be confirmed in a further announcement. Good luck to everyone!
Invite friends to win one of the following prizes:

- 1st Place: 4,500 $MELD tokens
- 2nd Place: 3,000 $MELD tokens
- 3rd Place: 2,250 $MELD tokens
- And 20,250 $MELD tokens will be shared among the top 4 - 50 referrals

IMPORTANT: You get a reward only if your referrals have completed ALL the tasks.
Step-by-Step Guide: "Extra Rewards for Learn-to-Earn"
Go to the Meland.ai Single Choice Quiz form.
Upload your interesting quizzes for the new exciting Meland world.
You will get an extra 100 $MELD token per verified quiz. Each Quiz is an asset that belongs to you. All your quizzes will be verified manually.
The top 3 referrals will be rewarded with a founder seed land each one.
Don't forget to like and comment below if you joined the Meland Airdrop!
Disclaimer: Investors should take the time to research any given product before they invest their funds (DYOR). "Buy Bitcoin with Credit Card"
Estimated value
n/a