Featured
Verified
Mogul Productions (STARS) Airdrop
Mogul Productions Early Adopter Distribution Program 400,000 STARS tokens (~$ 240,000) to be distributed to reward 20,000 lucky users through a raffle system. Each user that wins the raffle will be given 20 STARS tokens in their Mogul Smart Wallet. Get your first STARS token for Free!

About Mogul Productions
Mogul Productions is a decentralized film financing (DeFiFi) platform that brings creators, fans, and film financiers together to ensure the best films get made by allowing everyone to participate in the Filmmaking Process. Mogul Productions appears on several Press releases.
STARS is an ERC20 token on the Ethereum blockchain to be used to vote on which movies are going to be funded in the Showcase; users will stake their STARS to vote on a specific film. To encourage voting, voters will collectively claim STARS tokens after the voting round according how long they voted for the project. Users must have a minimum wallet balance of 1 STARS token to access the Mogul platform. Full roadmap and Access Pass Sale details can be found here.
How to join the Mogul Productions Airdrop?
Tokens Per Lucky Winner 20 STARS
Total Winners 20,000 lucky winners
End Date April 8th, 2021
Requirements to earn free crypto coins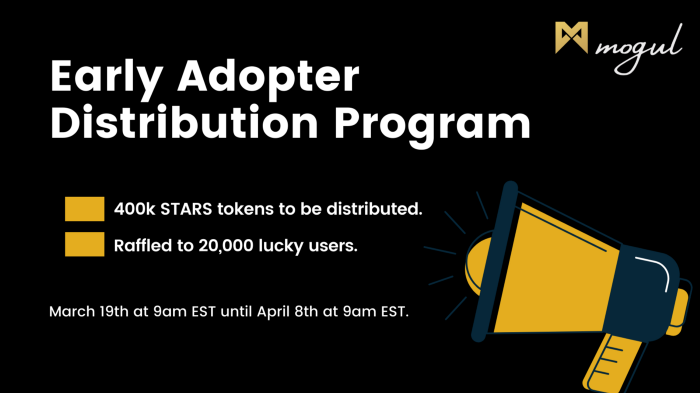 Native blockchain
Step-by-Step Guide ''Mogul Productions Early Adopter Distribution Program''
Sign up to the Mogul Productions Airdrop, by creating an account.
Verify your mail & Log in to your account.
Upload a profile picture to your account.
Like a minimum of 1 movie in the Showcase; each movie you like is one entry, so each user can get up to 9 entries.
Winners will be announced on March 28th at 11 am EST. Each user that wins the raffle will be given 20 STARS tokens. STARS tokens will be delivered to the user's Smart Wallet by April 20th. Users who have signed up to Mogul before the start of this campaign are also eligible. If fewer than 20,000 users are eligible, then each participant will win! For more info, please check this Medium blog.
If you like the Mogul Productions Early Adopter Distribution Program, don't forget to Like/Comment below.

Estimated value
~$ 240,000 prize pool
Mogul Productions Video Trailer