Verified
MyWish (WISH) Airdrop
MyWish Meme Airdrop contest is worth a $750 prize pool in WISH tokens to be distributed among 10 winners as follows:
1st place: $250
2nd place: $150
3rd place: $100
4th - 5th place: $50
6th - 10th place: $30

About MyWish

MyWish is a mobile application and a website where anyone can easily create a smart contract and then manage it. The simplest contract consists of three parts: wallet (source), conditions, and wallet (destination). The conditions determine when the transfer of funds must be done. The platform supports the full life cycle of a contract: creation, starting, monitoring and completion. It provides tools for the management and customization of personalized contracts.
Unlike other projects dedicated to smart contracts in general, the MyWish platform focuses on crypto funds management under various life circumstances. The main features of the platform are:
The platform implements the decentralized environment for calling smart contracts, ensuring the performance of the contract even in the absence of the platform;
User-friendly interface, multiplatform;
integration of external developers contracts is implemented;
Transfer of crypto assets to heirs' traditional banking accounts integration.
How to join the MyWish Airdrop?
Total Airdrop Allocation $750 in WISH tokens
KYC KYC is not a requirement
Airdrop End Date 4th April, 2021
Requirements to earn free crypto coins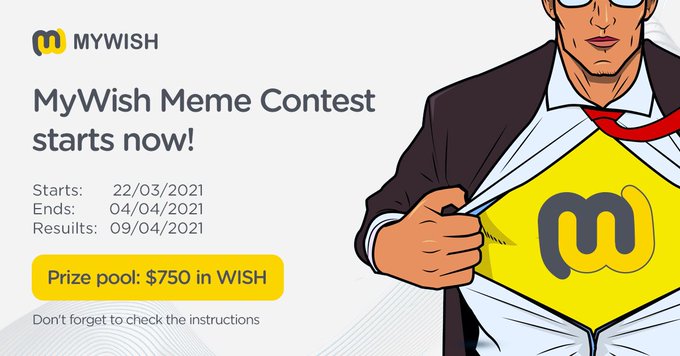 Native blockchain
Step-by-Step Guide ''MyWish Meme Airdrop contest''
Visit the MyWish Airdrop blog.
Join MyWish on Telegram.
Follow @mywishplatform on Twitter & Like and retweet the pinned post on Twitter.
Create a Meme (image, GIF, short clip) related to MyWish or Smart Contracts.
Post a Meme on Twitter with three tags: @mywishplatform, $WISH, #MyWishContest.
Participants can make as many memes as they wish and have to include MyWish Logo. Here are some materials you can use.
If you like the MyWish Meme Airdrop contest, don't forget to Like/Comment below.
Disclaimer: Investors should take the time to research any given product before they invest their funds (DYOR). ''Buy Crypto with a Credit Card''
Estimated value
~$ 750 prize pool
MyWish Video