Featured
Verified
Neo Smart Energy (NSE) Airdrop
It looks like you are too late! This airdrop is closed
Looking for new airdrops?
Visit our Featured & New Airdrops pages.
Neo Smart Energy Airdrop is worth 1 NSE token (~$ 10). Invite friends to earn 0,2 NSE token (~$ 2) for each referral.
About Neo Smart Energy
Neo Smart Energy is a new breakthrough innovation in the power generation industry. It is the first method in the world which can produce electricity in a good quality, environmentally friendly, affordable and without any kind of Prime mover. These innovations can generally be referred to as non-mechanical generator.
Smart G Portable Charging Device is their first product. It performs as a mini generator and is able to charge the device battery without the need to recharge it like a powerbank, because the smart G can generate the electric itself.
How to join the Neo Smart Energy Airdrop?
Tokens per airdrop 1 NSE
Tokens per referral 0.2 NSE
Total GiveAway 24,000 NSE
Requirements to earn free crypto coins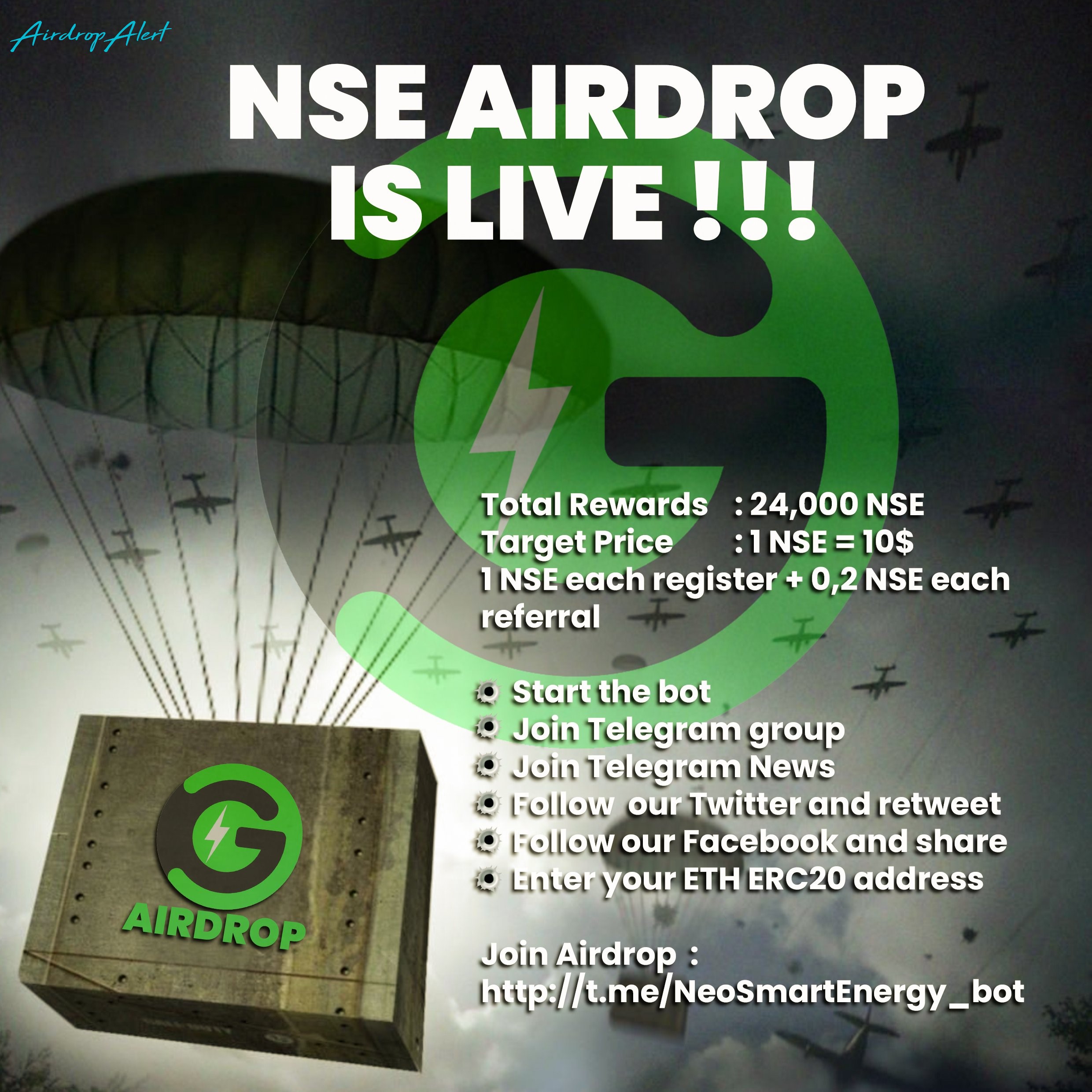 Native blockchain
Step-by-Step Guide Neo Smart Energy Airdrop
Chat with the Neo Smart Energy Airdrop Telegram bot.
Complete human verification and click on 'Task'.
Join Neo Smart Energy on Telegram.
Follow Neo Smart Energy on Twitter & Retweet the pinned post.
Follow Neo Smart Energy on Facebook & share the pinned post.
Click on 'Profile' and submit your mail, other details and your ERC-20 wallet address to the airdrop bot. The bot asks for your NSE wallet, which means ERC-20 wallet.
You will receive 1 NSE token. Click on 'Referral' to copy your referral link and start inviting friends to earn 0,2 NSE for each referral.
If you like the Neo Smart Energyl Airdrop, don't forget to upvote and comment below.
Estimated value
~$ 10 + referral
Additional ICO information
Token Ticker NSE
Platform Ethereum
Total Supply 50,000,000 NSE
Neo Smart Energy Video