Verified
Dracoo World ($BAS + Exclusive NFTs)
Introducing the ultimate Airdrop for all gaming enthusiasts! Get ready to win big with Dracoo World, the 3D strategic rogue-like deck-building game that's taking the crypto gaming world by storm.
The prize pool is a whopping 10,000 $BAS plus 5 exclusive NFTs, and all you have to do is follow a few simple steps to be in with a chance of winning. Don't miss out on this opportunity!

About Dracoo World

Dracoo World is a 3D strategic rogue-like deck-building game that takes players on an adventure to the Sacred Peak. The game features PVE adventures, PVP arena battles, and opportunities to enhance and breed your Dracoo team. Players collect $DRA tokens and evolve their Dracoo NFTs by battling other players, which can be traded on the NFT market.
In addition to earning $DRA tokens by completing missions, reaching the Sacred Peak, and winning in the PVP arena, players can also earn $BAS tokens by contributing to the Dracoo World ecosystem through activities such as staking, liquidity provision, and NFT farming. The $BAS token serves as the governance token of the Dracoo World ecosystem, allowing holders to vote on proposals and decisions related to the game's development and operations.
Moreover, Dracoo World offers opportunities to purchase and trade rare NFTs, including the limited edition "Seed Dracoo" which provides access to exclusive VIP events. The game is designed to be a play-to-earn game that offers limitless possibilities for real-time multiplayer online competitive gaming.
How to join the Dracoo World ?
Requirements to earn free crypto coins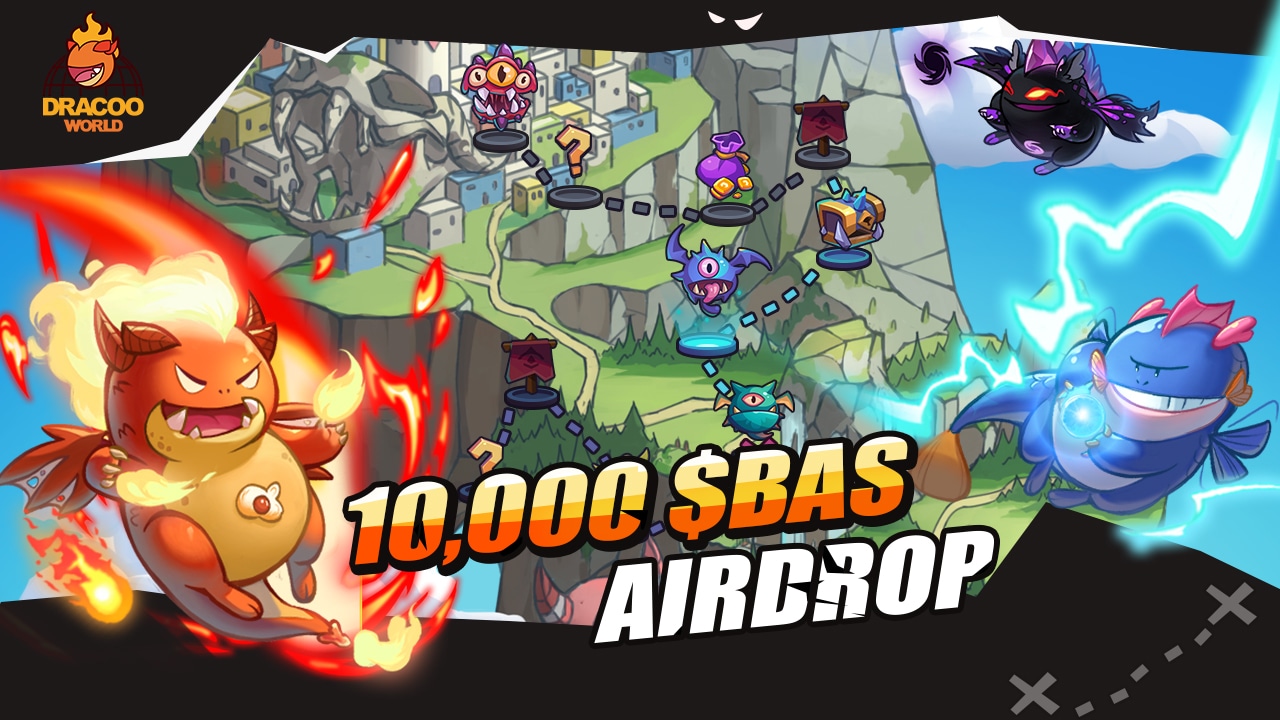 Native blockchain
Step-by-Step Guide ''Dracoo World Airdrop''
Go to the Dracoo World Airdrop Gleam page.
Follow @Dracoo_Master on Twitter & Retweet.
Join the Dracoo World community on Discord.
Visit the Dracoo World YouTube channel.
Visit the DracooMaster.com/Dracoo website to learn more about the game and its features.
Submit your BEP-20 wallet address & Refer your friends to increase your chances of winning.

▪️ That's it! By completing these easy steps, you'll have a chance to win $100 worth of $BAS tokens, which can be traded instantly. In addition, the top 5 entries will also receive an in-game NFT worth approximately 0.30 $BNB. Don't miss out on this exciting opportunity and best of luck!

When using decentralized applications (ÐApps), it's critical to remember that YOU are responsible for the security of your digital assets!
Disclaimer: This content is not intended to be financial advice. Investors should take the time to research any given product before depositing or investing their funds.
Estimated value
~$ 1,100 Prize Pool
Additional ICO information
Max Supply 200,000,000 $BAS
Blockchain Standard BNB Smart Chain
Markets PancakeSwap (V2) & MEXC
Dracoo Worldwide Campaigns Highlights