Verified
Vault Hill City ($VHC)
Are you ready to join the metaverse revolution? Vault Hill City has just launched its first PC build and is celebrating with an incredible Airdrop campaign worth 2,500,000 $VHC tokens being given away to 500 lucky winners.
Don't miss out on the chance to win up to 5,000 $VHC in the Vault Hill City Airdrop. Join now to experience the future and be a part of something truly revolutionary!

About Vault Hill City

Vault Hill City is the first-ever human-centric extended reality blockchain-based metaverse designed to make you feel more human, offering a unique and immersive experience. In Vault Hill City, imagination is limitless and each visit helps you explore your humanity. Vault Hill City's idea was born in Q1 of 2021, earlier than many other metaverses that came into existence after Meta's announcement in October 2021.
Unlike other metaverses that focus on short-term entertainment or financial gain, the Vault Hill City metaverse focuses on 7 basic human instincts: Vitality, Play, Romance, Community, Curiosity, Imagination, and Idealism. Users can explore immersive experiences that improve their lives, like learning, exercising, socializing, aspiring for perfection, and much more.
In addition to the VHC metaverse, Vault Hill City has created a comprehensive ecosystem consisting of a decentralized NFT marketplace, a DeFi cryptocurrency - $VHC token, an avatar creation tool, and an XR development studio powering brands to activate their existence in the metaverse. You can register your interest in the Vault Hill City Metaverse by answering this Survey and start exploring the Interactive Map.
How to join the Vault Hill City ?
Prize Pool 2,500,000 $VHC
Deadline 4th April 2023
Requirements to earn free crypto coins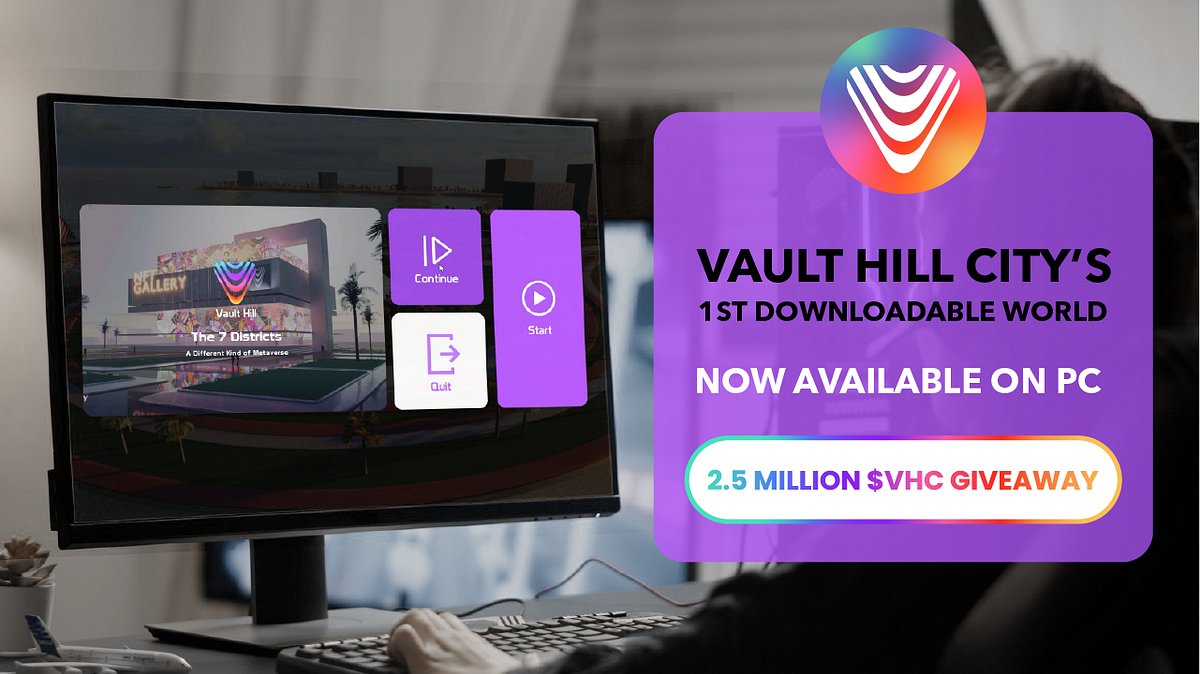 Native blockchain
Step-by-Step Guide ''Vault Hill City Airdrop''
Go to the Vault Hill City Airdrop Typeform.
Follow @Vault_Hill on Twitter and share your handle to win 250 $VHC.
Join the Vault Hill community on Telegram and share a screenshot to win 250 $VHC.
Join the Vault Hill community on Discord and share a screenshot to win 250 $VHC.
Retweet the Tweet with the VHC PC Build download link and share the tweet to win 250 $VHC.
Download the VHC PC Build from VaultHill.io and share the email you used to log in to win 3,000 $VHC.
Explore the metaverse and upload a 10-second video on Twitter, tagging @Vault_Hill, and Share the tweet in the form to win 1,000 $VHC.
Provide your ERC-20 wallet address so that they can send you the $VHC token rewards.

▪️ Although this is not the final version of the Vault Hill City metaverse, the team wanted to give users a taste of their world while they continue building a fully-fledged human-centric metaverse. The PC build application can be downloaded here and runs on most PCs with a Windows 10 operating system. An application for Apple will be released in April 2023. Don't miss out on this exciting opportunity to be one of the first to step into Vault Hill City and win $VHC tokens!
Stay up-to-date with Vault Hill City by following them on social media. If you have any questions, ask them on their Telegram group. Good Luck!

When using decentralized applications (ÐApps), it's critical to remember that YOU are responsible for the security of your digital assets!
Disclaimer: This content is not intended to be financial advice. Investors should take the time to research any given product before depositing or investing their funds.
Estimated value
~$ 11,000 Prize Pool
Additional ICO information
Max Supply 340,000,000 $VHC
Blockchain Standard Polygon
Markets BitMart, MEXC, QuickSwap
Vault Hill City - Video