Closed
Verified
OmniSparx (ETH) Airdrop
It looks like you are too late! This airdrop is closed
Looking for new airdrops?
Visit our Featured & New Airdrops pages.
OmniSparx Airdrop is worth 0.5 Ethereum (ETH) (~$ 150) for 5 participants, randomly chosen on the following dates: July 15, 2019, July 31, 2019, August 15, 2019, August 31, 2019, and September 15, 2019. There will be one winner for each selected date.
Note: this is a Lottery GiveAway.
About OmniSparx
OmniSparx is a Public Benefit Corporation (PBC) whose mission is to support the health and growth of Open Communities so that people anywhere can collaborate and engage and improve their social environments. OmniSparx supports the growth and health of Open Communities by resolving the challenges inherent to communication and collaboration in an open environment. They advance their mission through the OmniSparx platform. OmniSparx's goal is to be the premier authenticated and incentivized collaboration platform for Open Communities.
How to join the OmniSparx Airdrop?
Tokens per airdrop 0.5 ETH
Tokens per referral No referral program
Total Supply allocated for Airdrop 2.5 ETH
Requirements to earn free crypto coins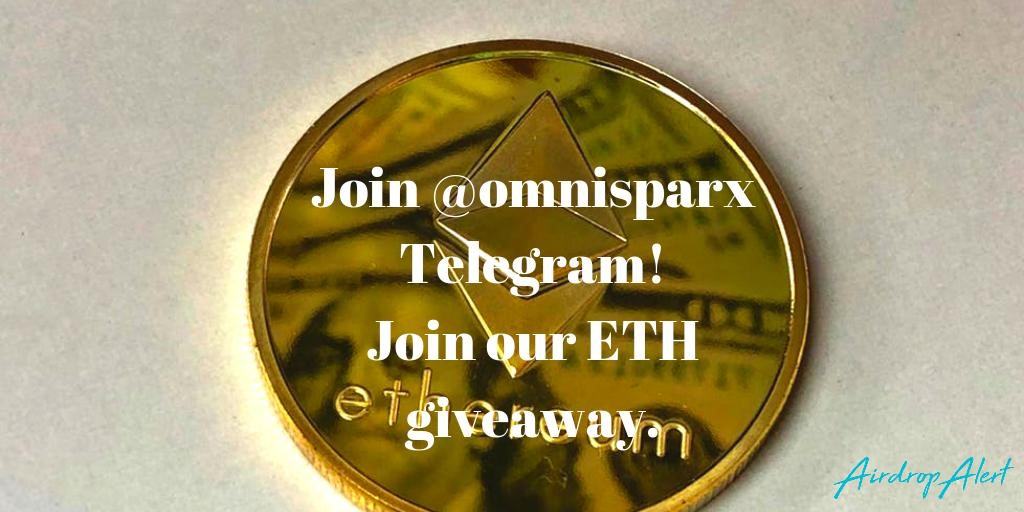 Native blockchain
Step-by-Step Guide OmniSparx Airdrop
Join OmniSparx on Telegram.
On each of the following dates, there will be chosen 1 randomly chosen winner: July 15, 2019, July 31, 2019, August 15, 2019, August 31, 2019 and September 15, 2019 at approximately 12:00 noon, US central time.
OmniSparx will direct message the winners on Telegram within 3 days of the selection, which will receive 0.5 ETH each.
Note: residents of Rhode Island USA and Canada are not eligible for this airdrop. Read this article for more information about the giveaway.
If you like the OmniSparx Airdrop, don't forget to upvote and comment below.
Estimated value
n/a
OmniSparx Video