Unverified
Piger ($PGR) Airdrop
Piger Airdrop Giveaway prize pool is worth 1,000,000,000 $PGR tokens to be distributed equally to 10,000 random winners.

About Piger

Piger project is a Decentralized All-in-One Live Streaming Platform that provides everything you need to run Livestream and connect with your audience for free. You can design and build your own metaverse on the blockchain and run a live stream using it! This idea is very cool and simple. Piger is in the metaverse space, unique to you and placed in the form of an NFT on the wallet.
The $PGR token is the native currency of the Piger ecosystem. The governance and future of the Piger project are determined by the $PGR holders. This is a utility token that is used for governance, in-network payments, monetization systems, etc.
How to join the Piger Airdrop?
Prize Pool 1,000,000,000 $PGR to 10,000 random winners
End date 30th August, 2022
Distribution date 17 September, 2022
Requirements to earn free crypto coins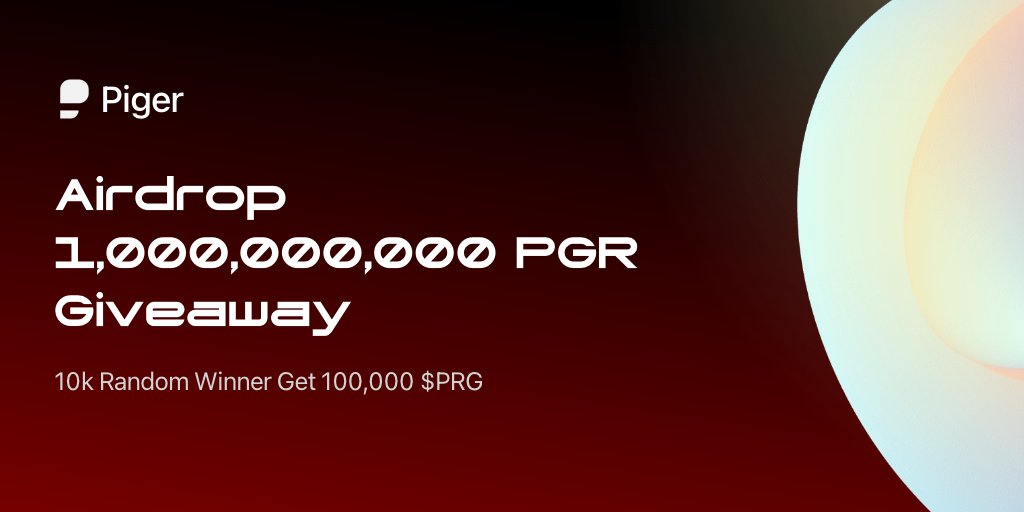 Native blockchain
Step-by-Step Guide ''Piger Airdrop''

▪️ 10,000 random lucky winners will get 100,000 $PGR tokens Each. Good Luck!

Like and share the Piger Airdrop on your favourite social media!

Note: This Airdrop is labelled with the ''Unverified'' label because the team info is not available & Smart contracts have not been audited yet!
When using decentralized applications (ÐApps), it's critical to remember that YOU are responsible for the security of your digital assets!
Disclaimer: Investors should take the time to research any given product before they invest their funds (DYOR).
Estimated value
~$ 7,000 Prize Pool
Additional ICO information
Total Supply 100,000,000,000 $PGR
Blockchain Network Binance Smart Chain
Markets Presale is Live