Verified
Polkastarter Gaming Guild ($NFT) Airdrop
Join the Polkastarter Gaming Guild Sweepstake for early access and a chance to win a $100K+ in NFT and Play2Earn sweepstakes.

About Polkastarter

Polkastarter is a protocol built for cross-chain token pools and auctions, enabling projects to raise capital on a decentralized, permissionless and interoperable environment.
The killer features of Polkastarter is the possibility of making both fixed swap pools and cross-chain swaps, powered by the Polkadot ecosystem, which can provide higher throughput for faster and cheaper transactions while staying connected to the Ethereum Network and other blockchains for liquidity, a must-have feature of the DeFi future.
$POLS is the utility token which plays a critical role in the Polkastarter ecosystem, giving you access to IDO pools.
How to join the Polkastarter Gaming Guild Airdrop?
Requirements to earn free crypto coins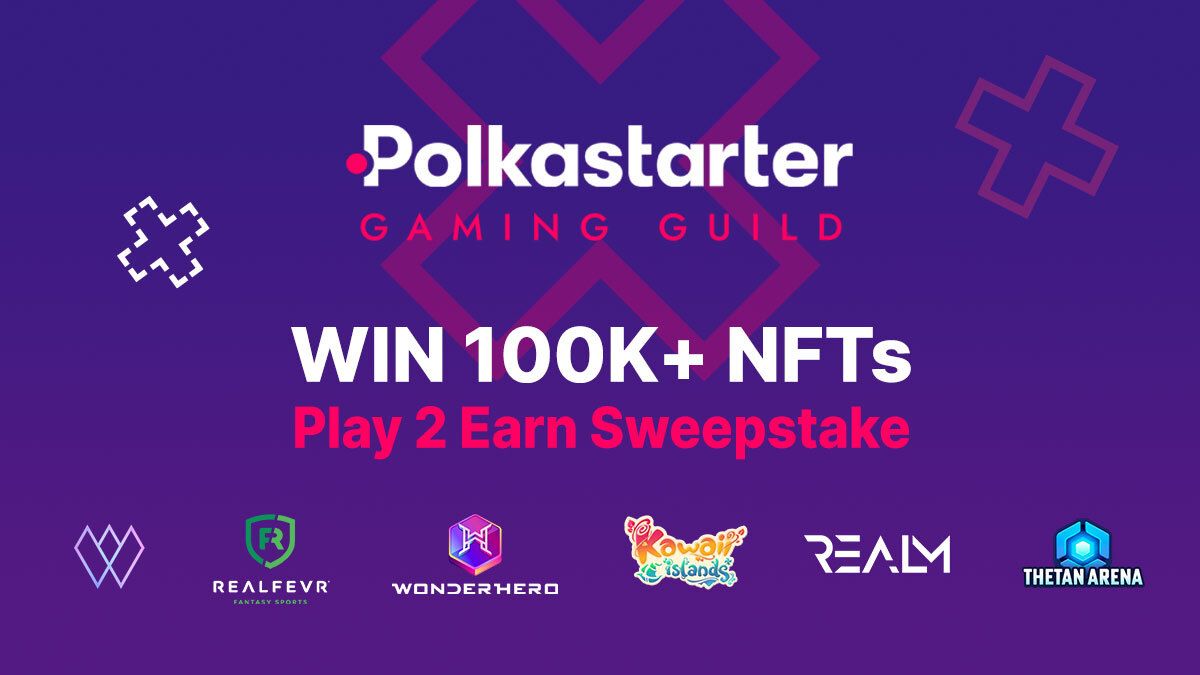 Native blockchain
Step-by-Step Guide ''Polkastarter Gaming Guild Sweepstake''
Login to the Polkastarter Gaming Guild Sweepstake page.
Follow @Polkastarter on Twitter & Share on Twitter.
Join Polkastarter Gaming on Discord.
Invite friends to PGG to earn more entries.
Everyone gets a chance to win a share of the $100,000 prize pool in NFTs of PGG partners - Realm, Kawaii Islands, WonderHero, Wilder World, Thetan Arena and RealFevr.

The Prizes are stipulated below:

▪️ Realm - a play-to-earn Metaverse that allows gamers, players and artists to create their own personalized NFT microverse.

▪️ Kawaii Islands - an Anime Metaverse, where everyone can play, create, connect and earn.
▪️ WonderHero - is a NFT play-to-earn mobile game. The game is a turn-based RPG for iOS/Android where players collect Heroes, enter RPG combat and earn tokens
▪️ Wilder World - an immersive 5D Metaverse built on Ethereum, Unreal Engine 5 and Zero.
▪️ RealFevr - a fantasy football app with more than 2.5M downloads that allows you to explore the world of Football everlasting NFT moments.
▪️ Thetan Arena - Thetan Arena is a esport (Moba + Battle Royale) game based on blockchain technology.
Like and comment below if you like the Polkastarter Gaming Guild Sweepstake!
When using decentralized applications (ÐApps), it's critical to remember that YOU are responsible for the security of your digital assets!
Disclaimer: Investors should take the time to research any given product before they invest their funds (DYOR). "Buy Bitcoin with Credit Card"
Estimated value
~$ 100,000 Prize pool
Polkastarter v2 - Video