Featured
Unverified
PrepayWay Round 2 (InBit) Airdrop
It looks like you are too late! This airdrop is closed
Looking for new airdrops?
Visit our Featured & New Airdrops pages.
PrepayWay Airdrop is worth up to 800 InBit tokens (~ € 8) for the first 8000 participants. Share your referral link to earn 100 InBit tokens (~ € 1) for every referral, with a maximum of 20 referrals.
Note: Round 2 is only for new participants. If you participated in PrepayWay Round 1 Airdrop, you are not eligible to participate in this Airdrop.

About PrepayWay

PrepayWay AG is a Swiss fintech holding developing a blockchain ecosystem that simplifies and streamlines international collaboration, contracting, and payments for companies across multiple industries. PrepayWay combines digital contracting, self-executing smart contracts, embedded payment options in fiat and cryptocurrency, escrow service and new enforceable dispute resolution technology. PrepayWay is rated 4.5/5 on ICO Bench.
How to join the PrepayWay Round 2 Airdrop?
Tokens per airdrop 800 InBit
Tokens per referral 100 InBit
Team KYC Yes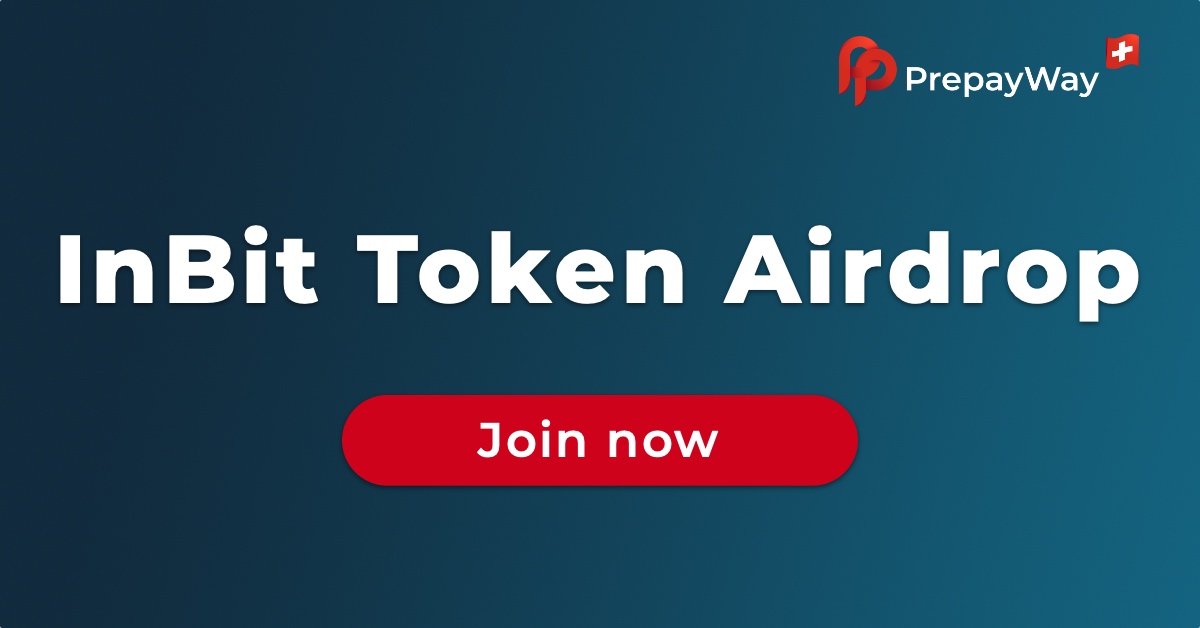 Native blockchain
Step-by-Step Guide PrepayWay Airdrop
Visit the PrepayWay Airdrop page.
Click on 'Join Airdrop!', submit your mail and name & click on 'Sign Up'.
Join PrepayWay Group on Telegram. (Mandatory, +50 InBit)
Join PrepayWay Channel on Telegram. (Optional, +50 InBit)
Follow PrepayWay on Twitter. (Optional, +100 InBit)
Follow PrepayWay on LinkedIn. (Optional, +100 InBit)
Answer 10 questions about the PrepayWay project. (Optional, +50 InBit per question, +500 InBit in total)
You will receive 800 InBit tokens after completing the tasks.
At the end of the Airdrop, PrepayWay will send you a mail to access your PrepayWay ccount and you will be able to check your InBit balance directly in your account. You will receive tokens after the token sale.
Note: Unfortunately, citizens of the United States of America, Switzerland, Afghanistan, Bosnia and Herzegovina, Central African Republic, Cuba, Democratic Republic of the Congo, Democratic People's Republic of Korea (North Korea), Eritrea, Ethiopia, Guinea-Bissau, Iran, Iraq, Libya, Lebanon, Somalia, South Sudan, Sudan, Syria, Uganda, Vanuatu, Yemen, and the Crimea region are not allowed to participate.
If you like the PrepayWay Airdrop Round 2, don't forget to upvote and comment below.
Estimated value
~€ 8 + referral
Additional ICO information
InBit Token price 1 InBit = €0,01
Token Type Utility
Hard Cap 50,000,000 EUR
Maximum Supply 12,763,636,364 InBits
Blockchain Standard ERC-20 Based Utility Token
Headquarters Baar, Zug (Switzerland)
PrepayWay Video